There is really only one real option when it comes to getting around London as a tourist, and that is the London Underground, otherwise known as the Tube. You could rent a car, but then you would be driving in London traffic which is terrible, and if you are from America you would suddenly be driving on the opposite side of the street which can be disorienting. All in all the Tube is a much safer and faster way to get around to the main sights in London.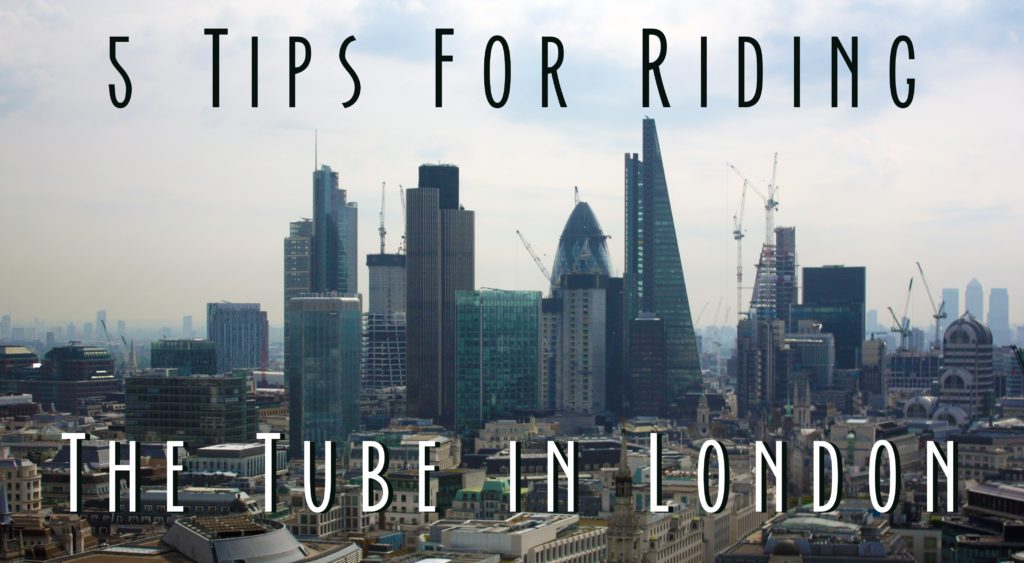 Like most metro systems in major cities, the Tube can be a little confusing when you first start learning it. The London Underground is actually extremely efficient, but, since it is the oldest metro system in the world, it is sprawling and sometimes complex. For this reason we have a few tips to keep sane during your first few hours in London.
1. Buy Your Oyster Card Before You Go
If you have traveled much internationally, you know that one of the first things you do after getting through customs is find a place to buy a metro pass. When your going to London this can be made much simpler by purchasing your pass before you arrive and having it mailed to you preloaded.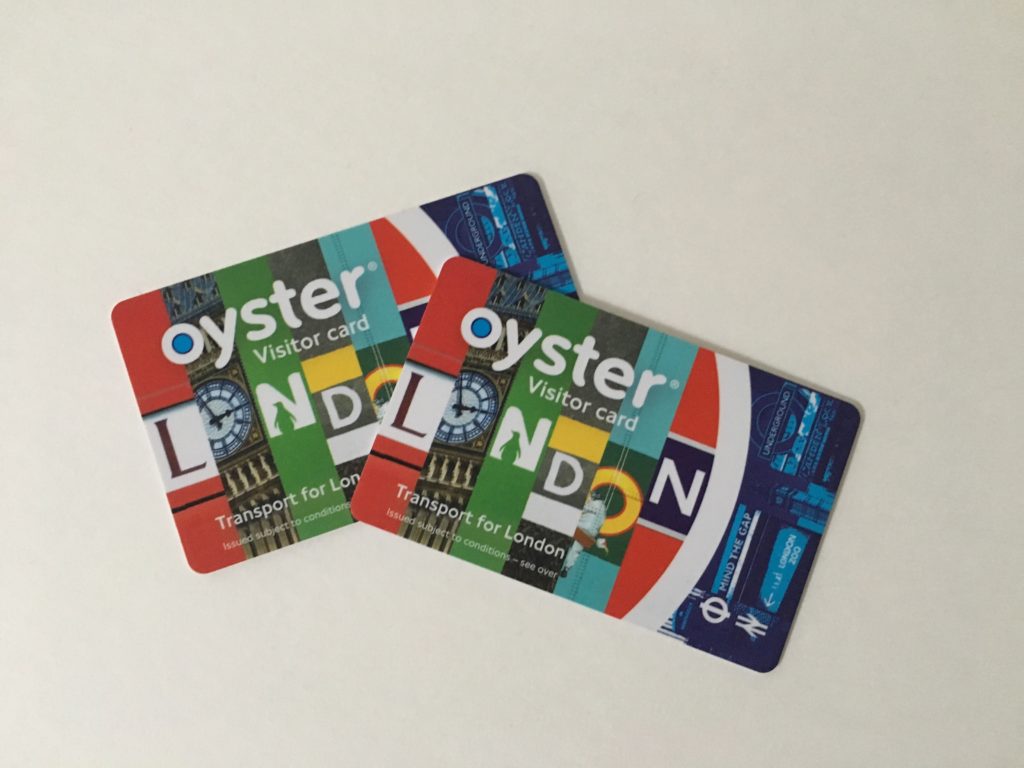 The London metro system uses a type of contactless payment card called an Oyster Card. Oyster Cards can be purchased online here from the transit authority and will be mailed to you. This of course requires you to plan your trip in advance. Don't worry if you don't know how much money to put on your card, you can always add more online or at a Tube station later.
Rather than worrying about currency exchange and standing in long lines for a pass like in Venice or Athens, it so nice to get off the plane and know you can board a train immediately.
The Oyster card is accepted on all of the public transport in London including overground trains and buses. Whether you are arriving at Heathrow or Gatwick airports you will be able to use public transportation to get into London.
Using Your Oyster Card
Using the Oyster card is similar to how the Washington, D.C. contactless cards work. Tap the card on a circular receiver at the gate to enter a Tube station's platform. When you leave the Tube station at your final destination you will tap your card again. The computer will calculate the distance from where you entered to where you exited and charge you accordingly based on the zones you traveled.
2. Understanding Zones and Other Costs
Like Paris, London is divided into zones to calculate transportation costs. The more zones you travel through the more it will cost you. If you are primarily touring the main London sights you will almost never travel outside Zone 1. The main exception to this would be if you are staying outside of the central city, and when traveling to or from the airport.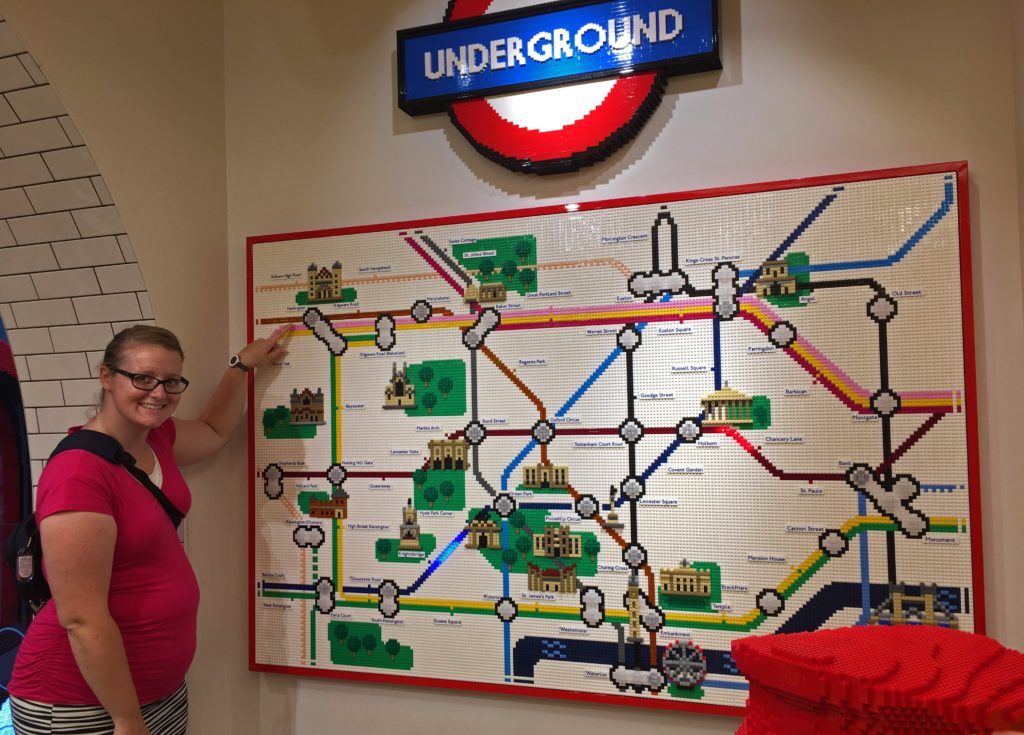 Peak Times
Like most metro systems, the London Tube will charge you more for riding during peak times of the day. These run from 6:30 to 9:30 in the morning and from 16:00 (4:00 PM) to 19:00 (7:00 PM) in the evening. Trains can get very crowded during peak times, so if you can avoid traveling then it is a good idea.
In practice however, it's not worth planning your vacation around these peak times. Trying to do so makes it very difficult to see everything that you would like to see. Many times you are likely to hit the price cap anyway so it doesn't make much difference either way.
Price Cap
Provided you are using an Oyster Card you will benefit from a price cap of (at the time of this writing) £6.60 a day in central London. Once you hit that limit you aren't charged unless you travel outside the center. It works out to be about 3 one way trips to reach the cap. This is the main reason that it isn't worth worrying about peak vs. off peak times.
3. Reading the Tube Map
Being able to read the tube map is key to having a successful journey on the London Underground. Tube maps and other transportation maps are found all over London, which is super helpful, more so if you know how to read them.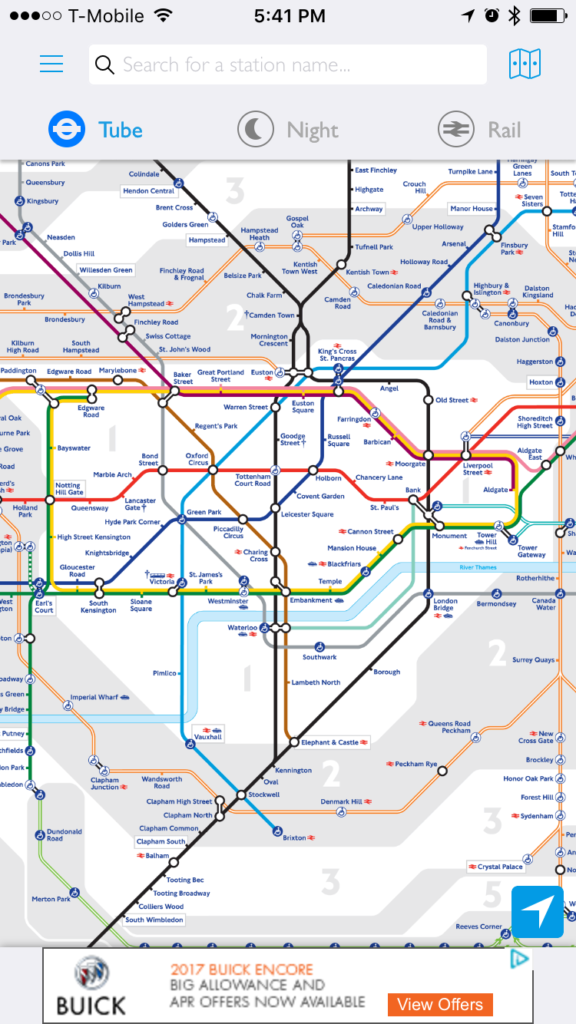 Not to Scale
Tube maps show you where each line goes and the general direction of travel. They are not drawn to scale and do not attempt to show the actual path of the track. Stations are mostly shown evenly spaced apart which is not actually the case. Therefore, the number of stops is not completely indicative of travel distance or time.
Names and Colors
On the tube map and in tube stations train lines are identified by names and colors. They do not use numbers or symbols which is unfortunate for color blind users.
Using a navigation app like Google Maps will normally tell you what tube line to take and what stop to get off for particular destination. This works well if you have cellular data while you are in London, if not you will need to make specific plans during the times that you have wifi and save them offline or print them out.
Pay attention to the lines that run next to each other. For example the District (green) and Circle (yellow) lines run to many of the same stations and cover much of central London. This means it sometimes doesn't matter which line you get on. Just make sure that the train you get onto stops at the station you want to exit or transfer at.
4. Use an App to Pay Attention to Alerts
Sometimes even the best metro systems have delays and closures. It is best to know about these before starting out for the day. To this end it is helpful to have an app like Tube Map that shows the current alerts for each line.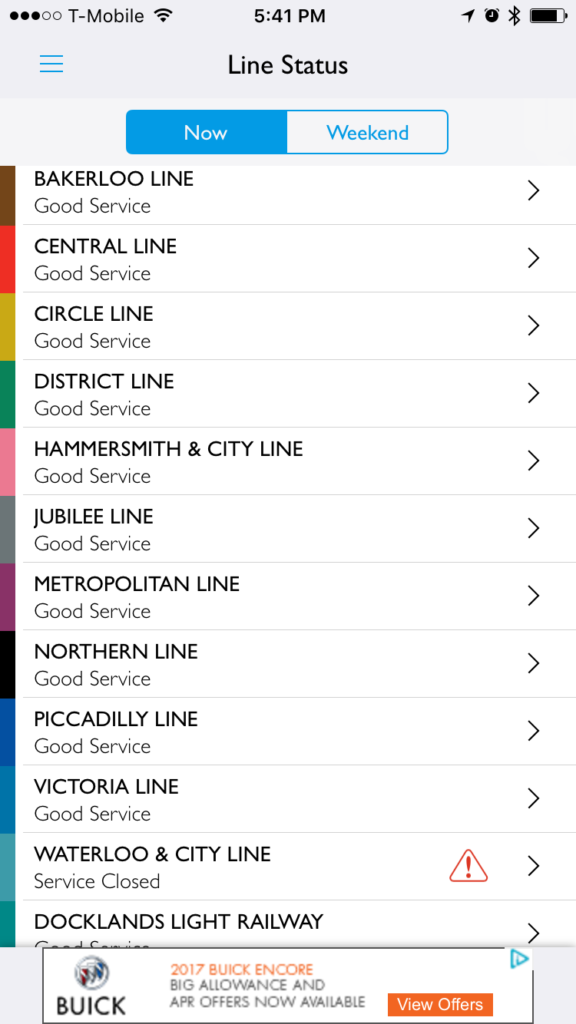 While we were in London we experienced closures due to maintenance, the June London Bridge attacks, and the Grenfell Tower fire. It was always better when we knew about these closures before we started out for a particular station or to ride a particular line.
I didn't, however, find the Tube Map app or other apps I downloaded to be as helpful as Google Maps for route finding. I always suggest downloading the Google Map of any place you are going to be visiting before leaving home.
5. Don't Get Lost on the Circle Line
According to Rick Steves' podcast many people get lost on the Circle Line in London. I guess this has something to do with the fact that it is called the Circle Line and runs in almost a complete circle, but doesn't actually connect. We never got lost while riding it, but it is worth being aware that it causes trouble for some people. Always make sure when riding the Circle Line that you know which direction your destination station is and that you are on the proper platform for that direction.
Sum Up
The Tube is really the best option for convenience and price in getting around London. Like most things in London, it is more expensive then other cities, but avoids the hassle of a car rental and the high prices of black cabs.
Also while you are in London we recommend taking at least one ride on a double decker bus, just for the iconic experience.