Washington D.C. is an amazing city to visit, but an absolutely awful place to drive. The 1800's streets were not made to handle millions of modern cars. This is particularly true among the many circles that are scattered throughout the city and cause traffic to grind to a complete halt. In addition to driving, parking is also a nightmare and extremely expensive. Fortunately for me and you the Washington, D.C. Metro is one of the best in the U.S. and can save you hassle and money.
When we came to D.C. we flew into the BWI airport in Baltimore and rented a car to drive down to Arlington, VA. After that we took the Washington D.C. metro to pretty much everywhere we wanted to go. Sometimes we would drive down to the Huntington park and ride just so we wouldn't have to walk back to our hotel in the dark.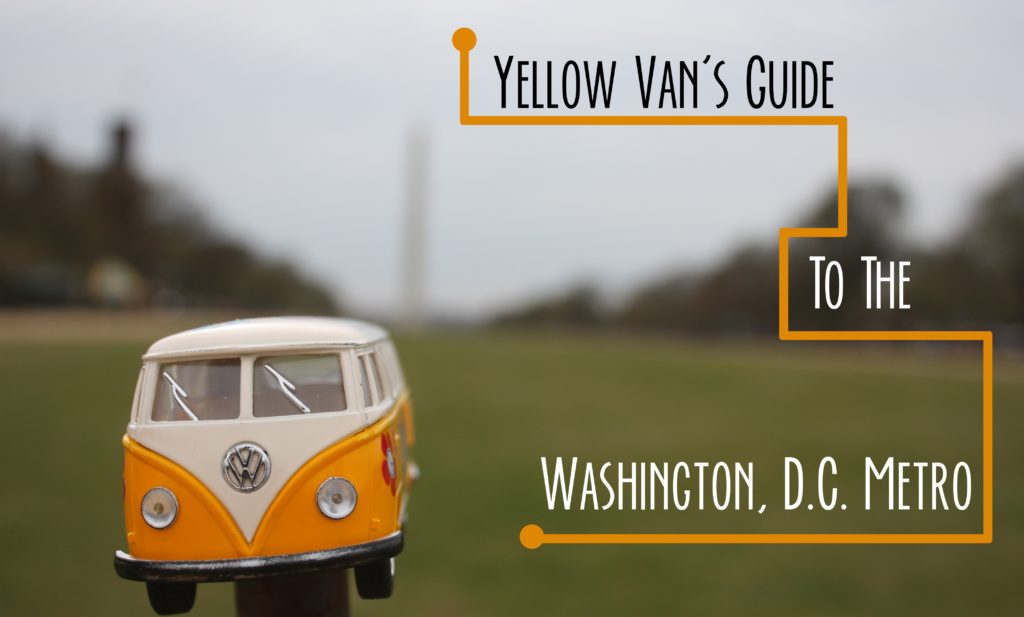 Washington, D.C. Metro Lines
While there are buses in the D.C. Metro network for the most part the best way to get around is the rail lines. These are mostly underground inside the city, but come above ground when you are further out.
There are five different lines, Blue, Orange, Silver, Red, Green, and Yellow. It can seem like a lot going around, but in the city Blue, Orange and Silver all run essentially the same route as do Green and Yellow.
Which route you take into the city will depend on where you are staying. Any of the park and ride stations will get you into the city in 15 to 20 minutes, and if you are staying closer it will take even less time. Figure out which line comes closest to your hotel and then work from there to figure out how to get where you are going.

Important Stops on the D.C. Metro
Assuming that you are coming to D.C. to see the big tourist sites like the National Mall and the Smithsonian museums, there are a few stops that will be most important to you.
Smithsonian (B, O, S), close to: the Mall monuments, Smithsonian Museums.
L'Enfant Plaza (B, O, S, G, Y), close to: the Mall monuments, Smithsonian Museums.
Archives-Navy (G, Y), close to: National Archives, Smithsonian Museums.
Capitol South (B, O, S), close to: Capitol, Supreme Court, Library of Congress, Congressional Offices.
Trains come through very often. You will seldom wait more than 15 minutes for a train on a weekday and more than 30 minutes on a weekend. During peak times (rush hours) trains can be come extremely crowded, so just be prepared for that and keep your group together.
Passes for the Washington, D.C. Metro
The main way of paying for trips on the Washington, D.C. Metro is a SmarTrip card. You can load money directly onto these cards to pay for fares.
Loading money directly onto a SmarTrip card can work out well for you if you think you are only going to ride the Metro once or twice a day. If you plan to spend all your time in the National Mall area and don't mind walking a bit that will probably work for you. If you do go with this route you will load money either at the station kiosks or wmata.com. Be aware that fares vary depending on what times you are riding.
If you are planning or think you might end up riding the metro more than a couple times a day you will want to look into different pass options for your visit to D.C. These passes can be found here. You can buy them online but they cost the same as buying them at the kiosks so I would suggest doing that. All the passes are loaded onto a SmarTrip card used to tap in and out of the metro stations.
We got the 7-day fast pass while were in D.C. for about a week. Possibly, we could have been able to get away with the 7-day short trip pass which only lets you ride unlimited during off-peak hours. We weren't sure we wouldn't want to ride during the peak hours though so we just went with the full pass.
Since all the passes are on SmarTrip cards you can also load them with extra money to cover the types of trips they don't, such as peak hour trips or bus fairs to places away from the rail lines.