Are you still in need of some awesome stocking stuffers for the traveler in your life? We've put together a quick list of 10 awesome stocking stuffers that will be great for any traveler.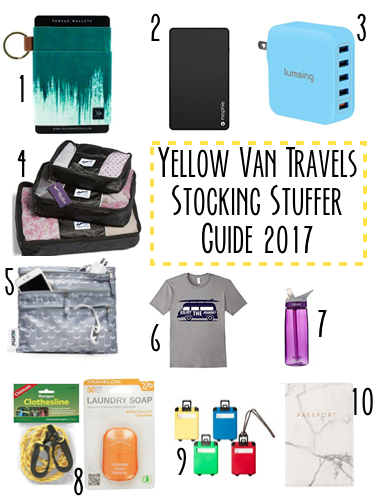 1.) Thread Wallets: These little elastic wallets are great for those who are on the go. They hold your most important cards and the wallet can slip easily into your pocket or bag. They also have great wristlets and lanyards to add on to the wallet.
2.) Battery Packs: Battery packs are great for charging up devices on the go. Our favorite is the Mophie Powerstation. 
3.) Multi-USB Charger: For small hotel rooms with only a few accessible outlets, this is a great way to charge up all of your devices only using 1 plug. It's also great if you're traveling internationally and only brought one power converter.
4.) Packing Cubes: Every traveler needs these in their life! We own the Fishers Finery ones that we love but we ordered these ones for a family member this year.
5.) RuMe Baggie All Bag: Easily my favorite travel organizer! It is perfect for pulling out, sticking in the seat pocket in front of me and holds every thing I need from my Kindle to headphones to chargers to my iPhone.
6.) Fun Travel Shirt: We always like to be comfy while we travel. So fun travel t-shirts are a must! Some of our favorites come from Stately Type.
7.) Good Water Bottle: Some of my favorite brands are Atlasware, Camelbak and Contigo. But if you want one of the highest quality water bottles, go for the Hydro Flask.
8.) Laundry Kit: Put together a travel laundry kit with soap sheets and a travel clothesline.
9.) Luggage Tag: A fun luggage tag is a great stocking stuffer and makes it easy to keep track of your luggage!
10.) Passport Cover: Not a necessity, but a nice looking passport cover is a great travel accessory for the traveler who already has everything.
**This post contains affiliate links.**