We are continuing with our Disney California Adventure Series. To see our other posts in this series head on over here.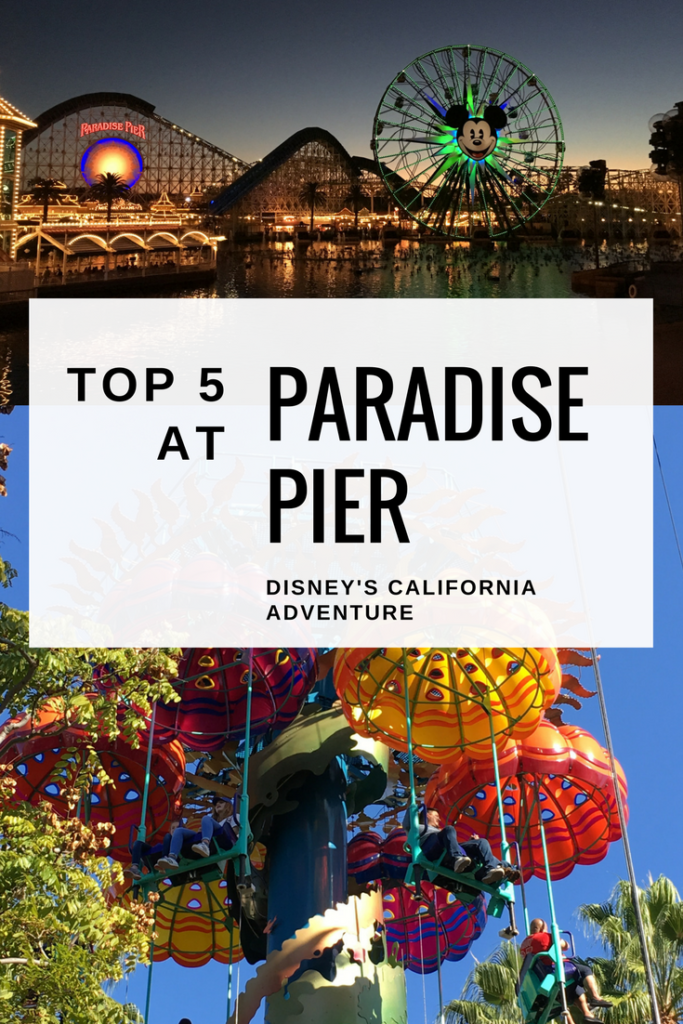 Atmosphere at Paradise Pier:
Like in other parts of Disney's California Adventure, Paradise Pier is set up to be exactly what it sounds like. You feel like you are right on a gigantic pier on the coast of California. With a beautiful waterfront scene, you can walk along the boardwalk and ride rides or play games that are typical of a traditional boardwalk along the California coast. There are also PLENTY of fabulous dining options in this area of the park. While it isn't necessarily as magical as Cars Land or A Bug's Land, this is where some of the park's biggest rides and attractions are so you will probably end up spending quite a bit of time in this area.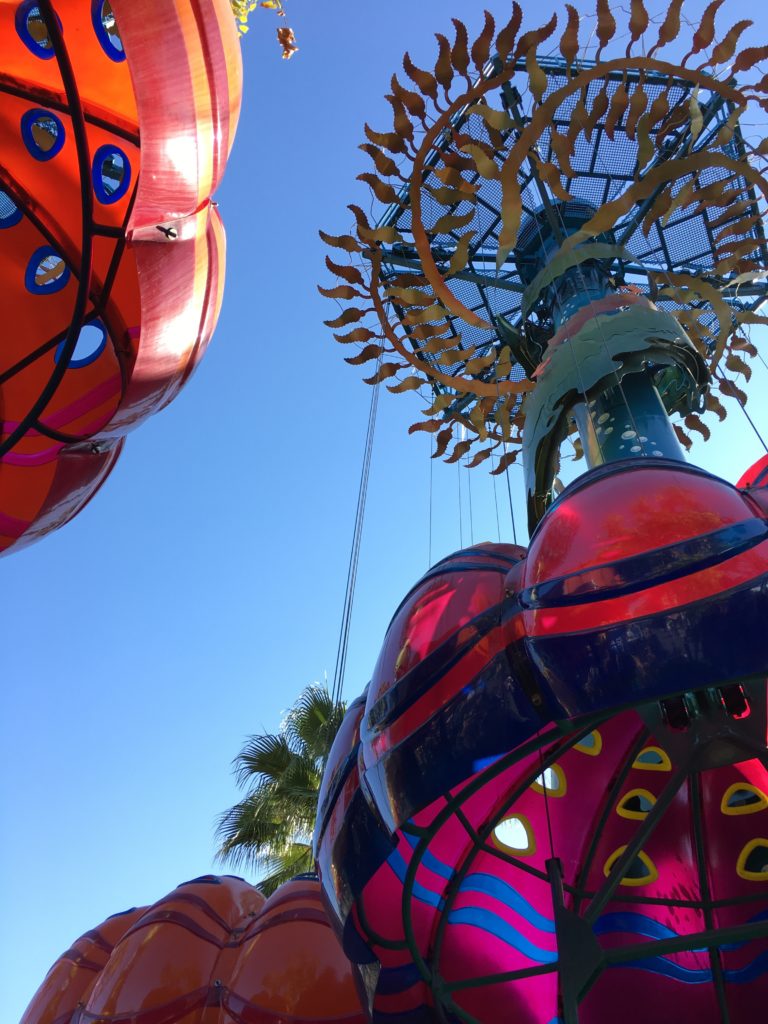 Top 5 Things at Paradise Pier:
While Paradise Pier has something for everyone of any age, these were my 5 favorite things from this area of the park.
1. California Screamin'
California Screamin' is the park's biggest roller coaster. It is also a very popular ride. We suggest going early in the day to get through quicker. You can also get Fast Passes for this ride. Riders must be 48″ tall. On this ride you will go super fast, spin in some loops and literally scream! There are bags attached to the seats to put loose items like sunglasses and hats while you ride, but I usually preferred just to leave those things with non-riders in my group.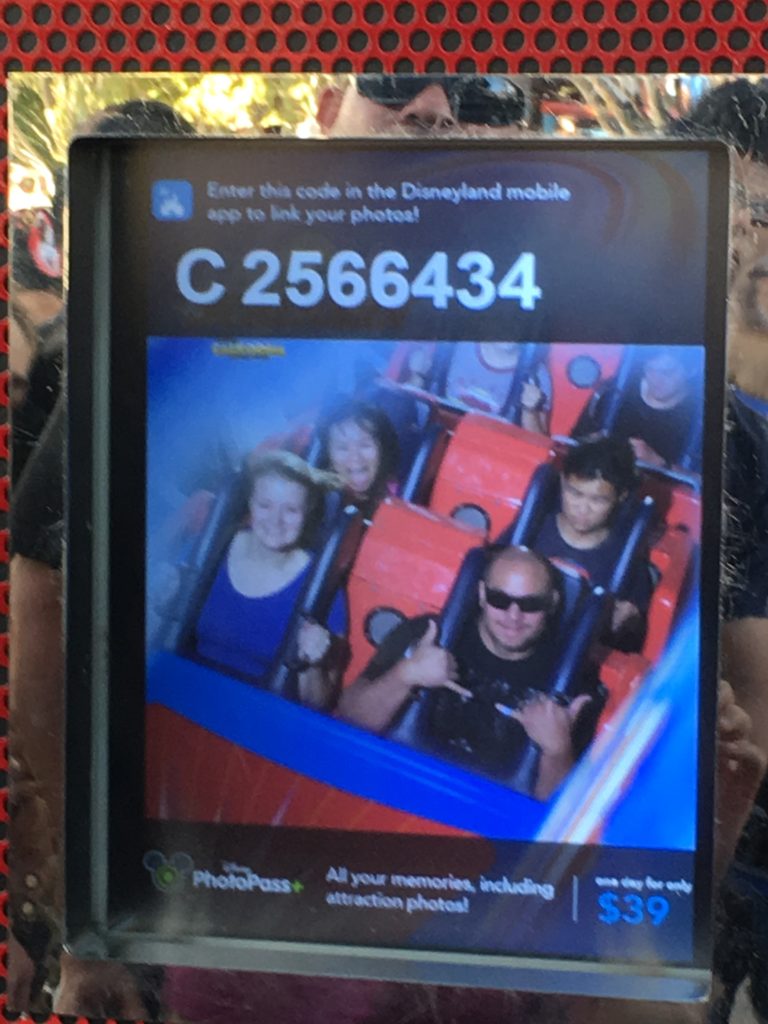 2. Mickey's Fun Wheel
Probably the most iconic piece of the Paradise Pier skyline is Mickey's Fun Wheel. There are two lines for this ride. One is for stationary carriage and the other is for carriages that move. We all decided that staying stationary was best for our group. This line is usually longer, so if you're ok with free spinning/moving way up at the top of this huge Ferris wheel then choose the moving carriage line. Looking at Mickey's Fun Wheel from the pier makes it seem not so huge, but once you're up in the carriage and can view the whole park, you realize that it is quite high! It moves slowly so if you're scared of heights this might not be the best ride for you. This ride is perfect for anyone and has no height or other restrictions.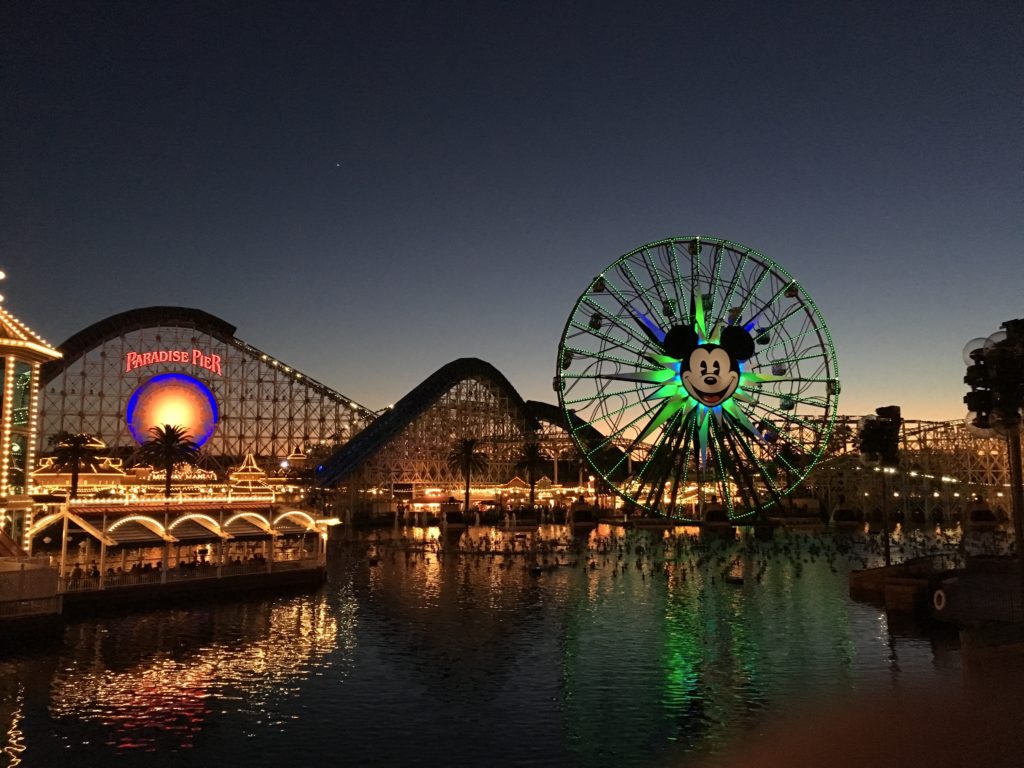 3. The Little Mermaid-Ariel's Undersea Adventure
This ride is a nod to the Disney rides of old. On this cart style ride you will be taken through Ariel's adventures of living under the sea. You hop on a moving track to sit inside of a pretty seashell that takes you on your journey. This ride is an updated version of a ride similar to It's a Small World and the Peter Pan ride of Disneyland. There usually isn't a long line and they allow anyone to ride it. This is the ride we probably went on most while in Disney's California Adventure.
4. World of Color
The World of Color is a special show that happens each night along the pier. In order to get into a better viewing area, you will need to get Fast Passes early in the day. These will allow you to stand closer to the water in special roped off areas for Fast Pass holders only. This water and light show plays off of classic Disney songs and cartoons along with some modern music and fun. World of Color happens each night when it is dark so check to see what time it plays while you're there. There is standing room only for this show and after a long day, it can seem even longer when you're standing in one place! So if you can, I would suggest taking a sitting/resting break a little bit before you get in your spots for the show.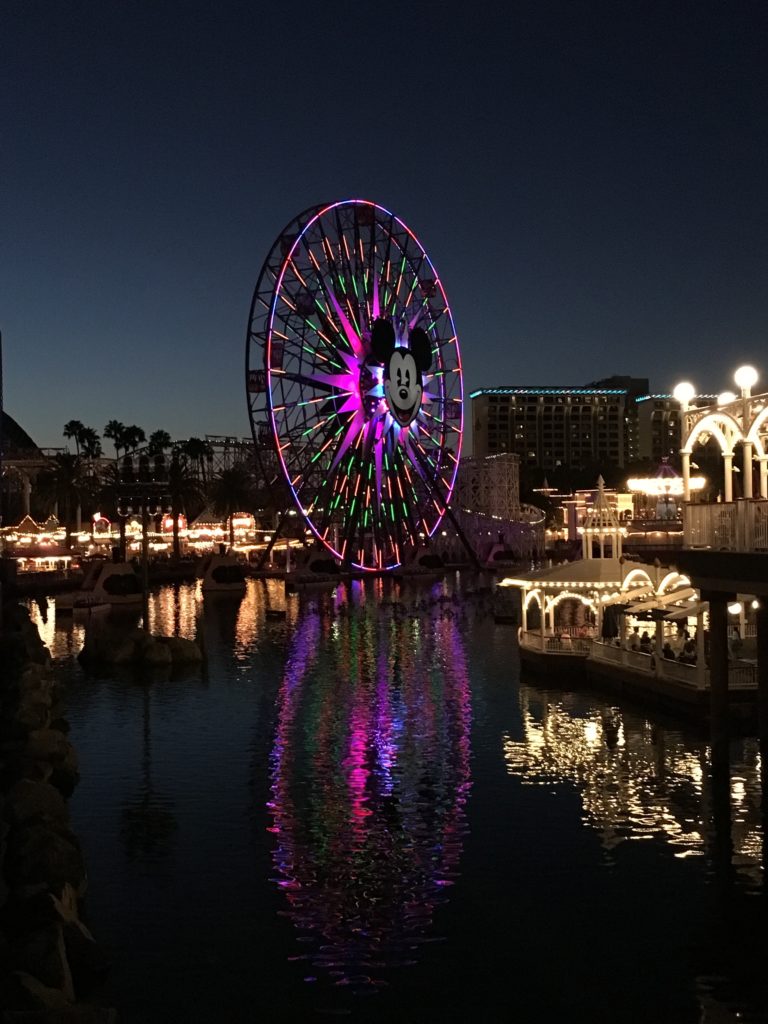 5. Pacific Warf
While the Pacific Warf isn't exactly inside Paradise Pier, it is right next door and has the best food in the entire park! Based on the classic Fisherman's Warf of San Fransisco, Pacific Warf is home to a sourdough bread factory that you can tour and get samples of before stopping at their cafe for lunch. We got delicious cheese and broccoli soup in a sourdough bread bowl and it was HEAVENLY! It was so big that Ben and I were able to share it for lunch and be plenty full.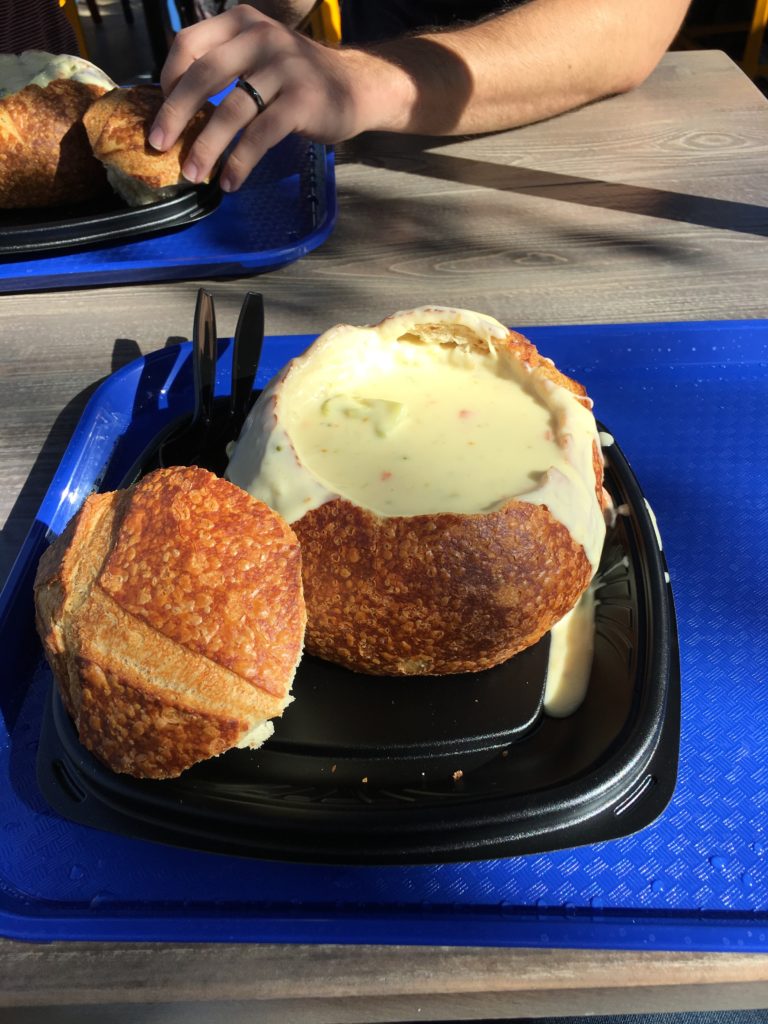 Across from the Pacific Warf Cafe, is the Ghirardelli Soda Fountain and Chocolate Shop. Made to look like an old soda fountain, this is the place for all sorts of yumminess and treats. Just for walking in you can get a free sample of a Ghirardelli chocolate square. Later in the day Ben and I ordered a brownie sundae and it was GIGANTIC! Definitely big enough for the two of us but could easily be shared by a family of 4.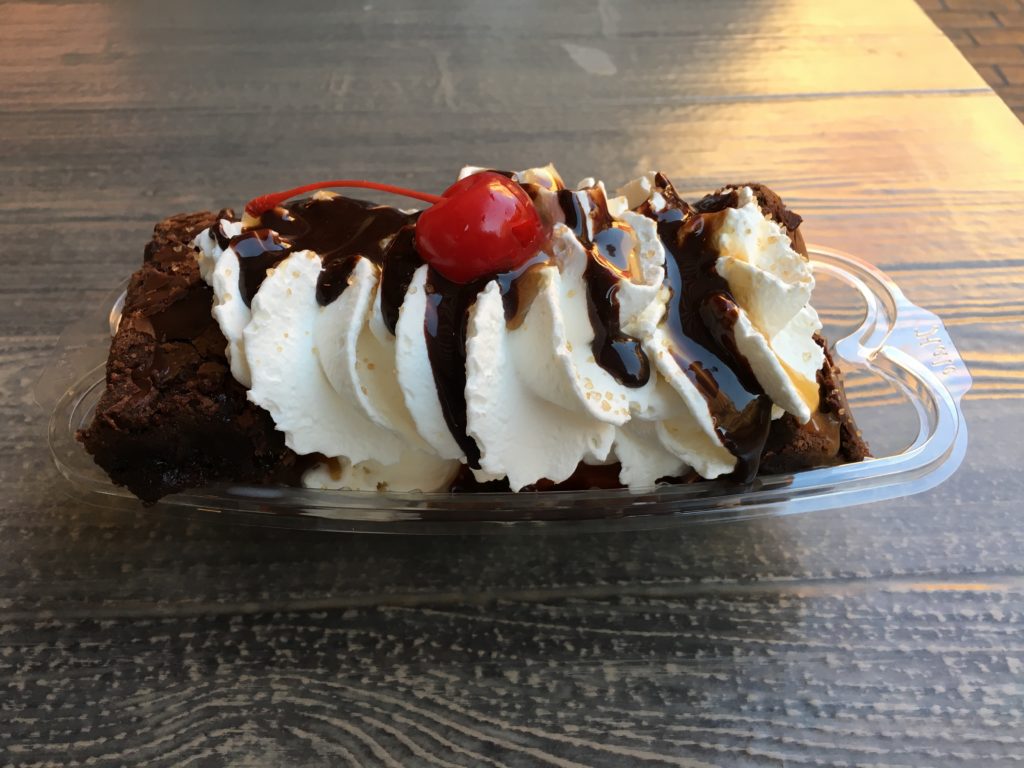 There are other restaurants in this area too with plenty of seating outside as well as restrooms and drinking fountains. This was one of our favorite areas in the park just to rest and hang out in-between rides.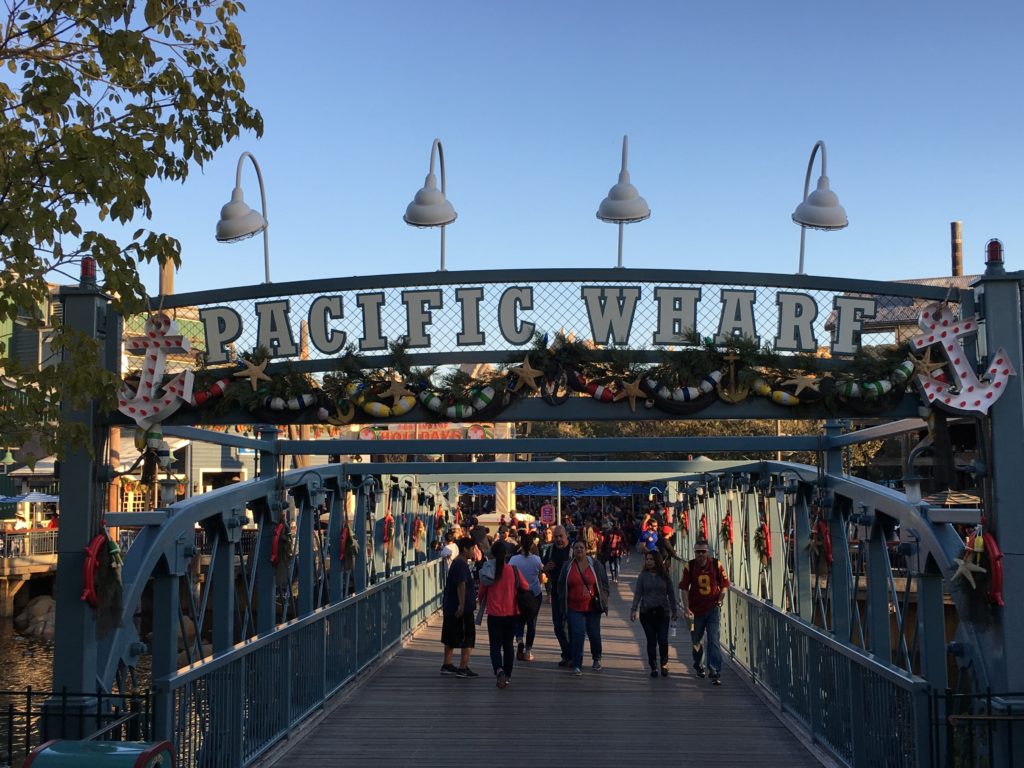 Sum Up:
Paradise Pier at Disney's California Adventure is probably the most popular area of the park because it has some of the biggest attractions. Next to Paradise Pier is Pacific Warf which has the best food in the park as well as some free samples if you're in need of a quick pick-me-up.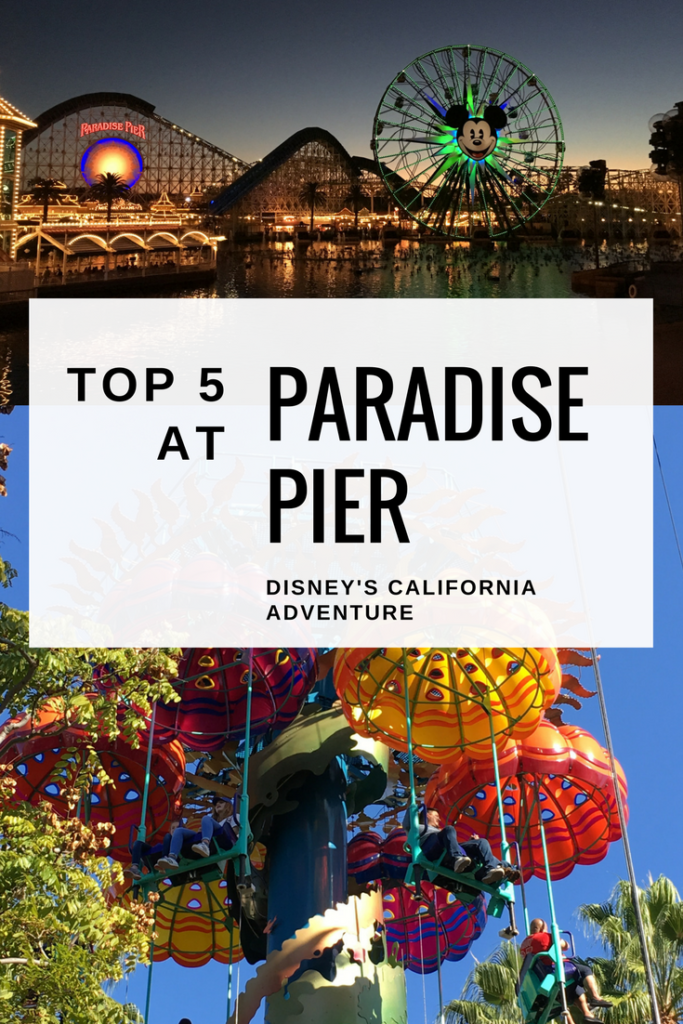 If you're interested in going to Disney's California Adventure, make sure to use Get Away Today (affiliate) to save some extra money!