In the Disney Parks you can end up anywhere. One moment you're on Buena Vista Street in old LA, and the next you are in a National Park! At least that is what it feels like when you get enter Grizzly Peak in California Adventure.

The Atmosphere of Grizzly Peak
I know, I know, I am always going on about how great Disney's atmospheres are but it's really true. Walking in the Grizzly Peak area of California Adventure feels like walking in a National Park (albeit a very small one). I love National Parks, I love Disneyland, Grizzly Peak is another dream come true for me.
When you enter the Grizzly Peak portion of the park you (if you come from Buena Vista Street) you enter through the Grizzly Peak airfield, this first part is mostly aimed at aviation theme, as though the National Park has a tiny airport outside it.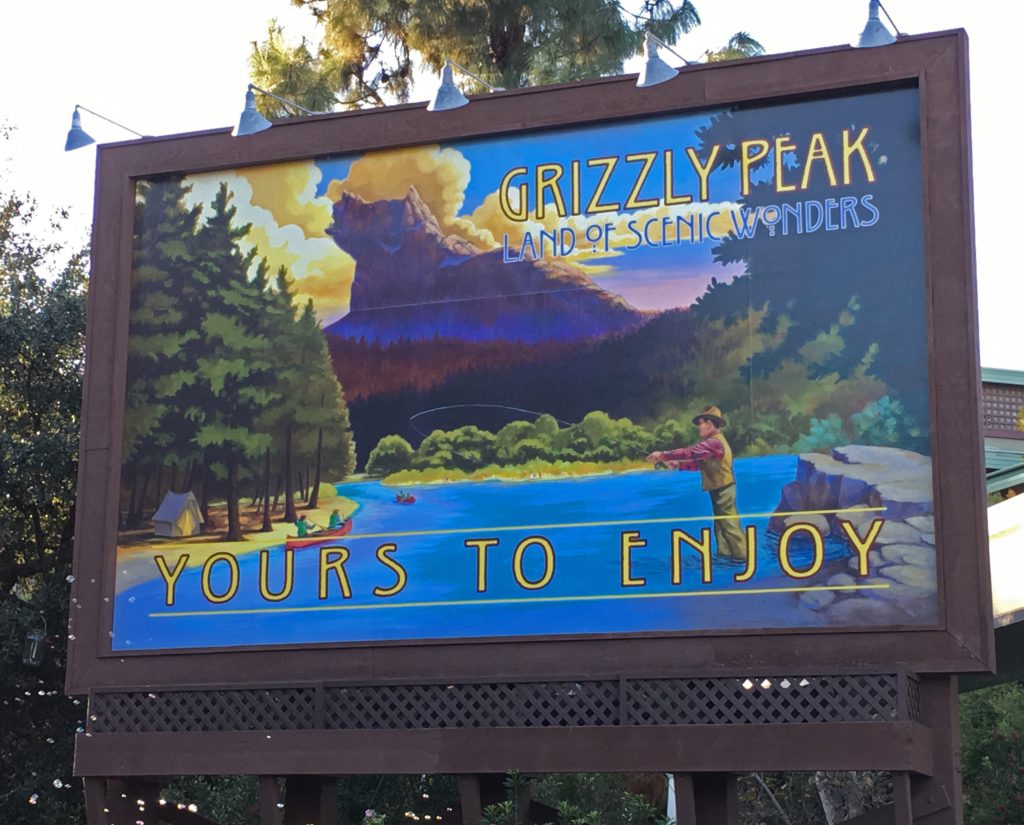 Once you pass through the airfield you'll be in the forested section reminiscent of a National Park like the Redwoods. I think the best way to get the most from Grizzly Peak is to just take your time here. Just walk around and enjoy the ambiance. The path meanders through the woods, there is plenty to look at. There is even a real Grizzly Peak, a mountain shaped like a giant bear, that rises over the whole park.
We started out at Grizzly Peak in the morning and there were not very many people there at the time. That is, of course one of the best ways to experience it. Later in the day it got more crowded, attraction lines started to spill onto the trail, and it was a bit harder to imagine I was away in a National Park.
Rides and Attractions at Grizzly Peak
Compared to other areas of the park Grizzly Peak might not seem like it has all that much going on. That's true, compared to Paradise Pier, or even Cars Land, Grizzly Peak seems pretty slow. There only two rides here and one restaurant, but that is really as it should be, and the rides happen to be two of California Adventure's most popular.
Grizzly River Run
What better setting than a mountain for a rapids ride? In Grizzly River Run you board a large raft that seats about 8 people. You ascend to top of Grizzly Peak and come careening back down. Similar to Splash Mountain in Frontier Land, you should expect to get wet when riding Grizzly River Run. Unlike Splash Mountain there is no predicting which seat on the raft is going to get the most soaked. The raft can spin freely throughout the ride and can suddenly turn on a waterfall to soak you when you thought you were safe, as happened to our friend Travis.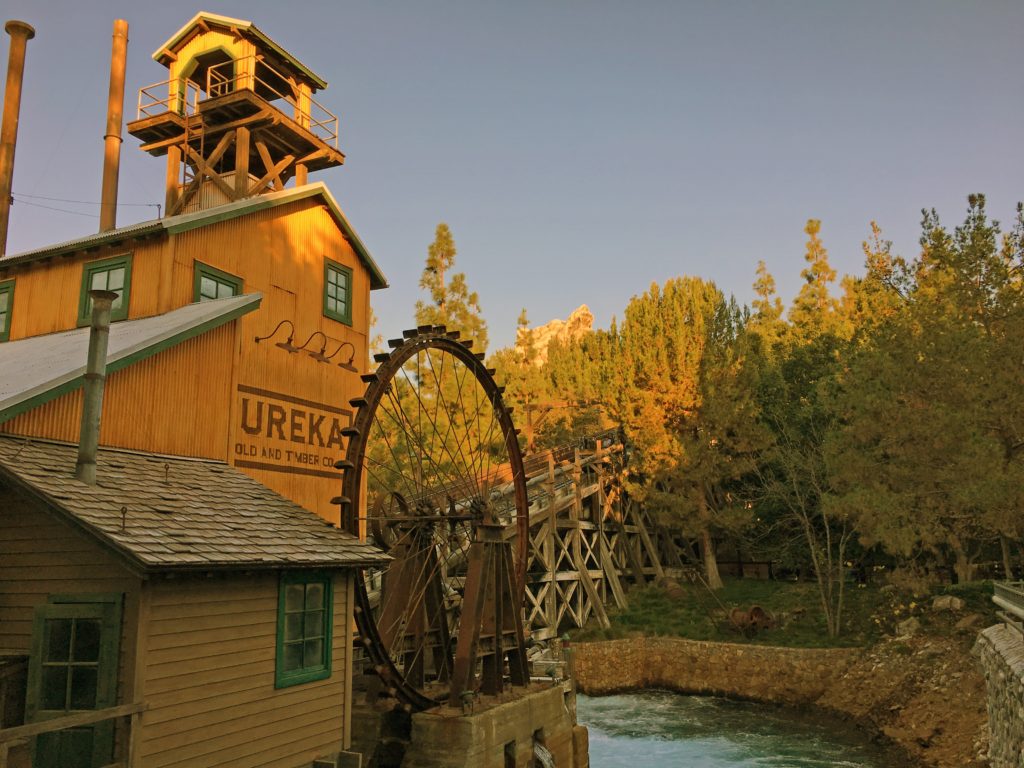 As you already probably know I'm not a huge ride guy, but under pressure from my friends and wife I did ride Grizzly River Run, and I really liked it. It's like the thrills of white water rafting with none of the work, so what's not to love?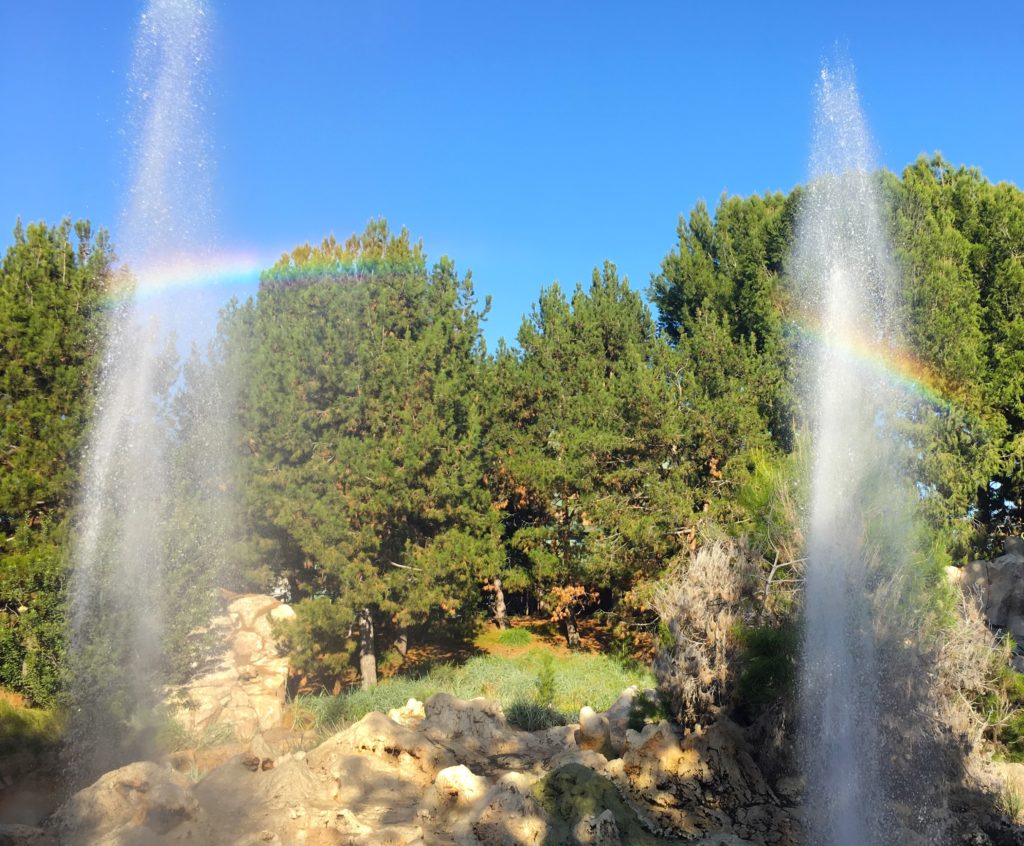 We did this ride early in the day and there was no line at that time. Later on the lines got very long, but there are fast passes available to help you out.
Soarin' Around the World
Often just called Soarin', this ride was changed from Soarin' Over California to Soarin' Around the World last year. On this ride you board an "airplane" to see landmarks all over the world.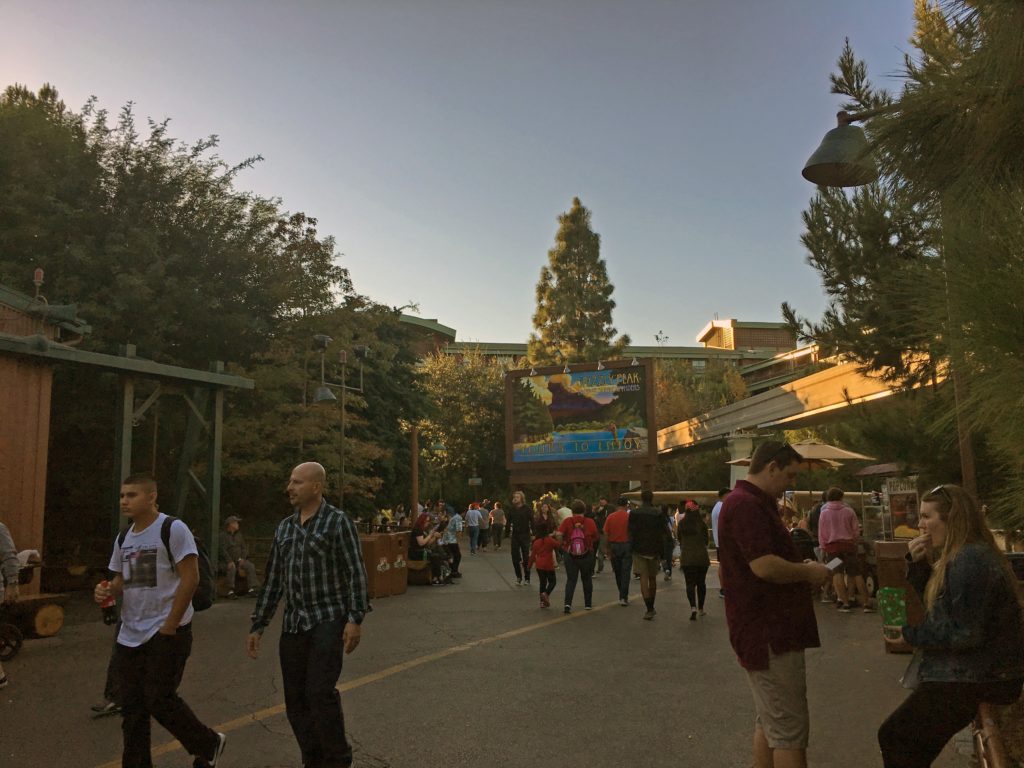 You sit in airplane-like seats with harnesses in rows on mechanical arms. These lift you up during "take off" and give you motion as you soar around the world. The experience happens on a giant screen in front of you giving you the sensation of flight. Some real world effects like wind and smell help this ride to be immersive.
The line for Soarin' can get extremely long. There are fast passes available to help speed you up. Fortunately once the line gets inside the building it meanders through exhibits about flight, so it's not incredibly boring.
Redwood Creek Challenge Trail
Not a ride, but an experience, the Redwood Creek Challenge is one of the times that I really wished I was kid. Aimed at helping you become a "wilderness explorer" this attraction has several challenges. These are really aimed at younger children, but I'll admit I did most of them anyway.
There are rope bridges and a rock wall, and slides. You can track animals into a cave where you can find your spirit animal (courtesy of Brother Bear). There is a lot to do, and if you are kid you can earn your wilderness explorer badges and become a senior wilderness explorer if you go to the ceremony the cast holds daily.
Sum Up
Grizzly Peak is one of my favorite areas in the Disney Parks. I think it is a great place to have a bit of calmer atmosphere in what can be a crazy park. The rides here are fun and not scary. I think you will enjoy the area. There are bathrooms across the road from Soarin' if you need them while you are here.
Remember when booking your trip to California Adventure you can save money using Get Away Today (affiliate link) and use Promo Code: YellowVan to save even more.