When we first started traveling internationally, I was very concerned about having our important items stolen from us. Our first trip was to Paris and we read that pickpocketing and small theft was a huge problem. I wanted to find a way that was safe for us to carry around important items like passports, money/cards, hotel keys, and our camera. I wanted these items safe, but I also wanted them to be easily accessible to me while we were out and about.
First I came across this travel scarf, and then I started looking into anti-theft bags. And I found the Travelon Anti-Theft Crossbody Bag. I chose this bag because it was on the small side, but still had a good volume to carry the items we needed. Travelon as a company had good reviews and this bag in particular had a price point that was within our budget.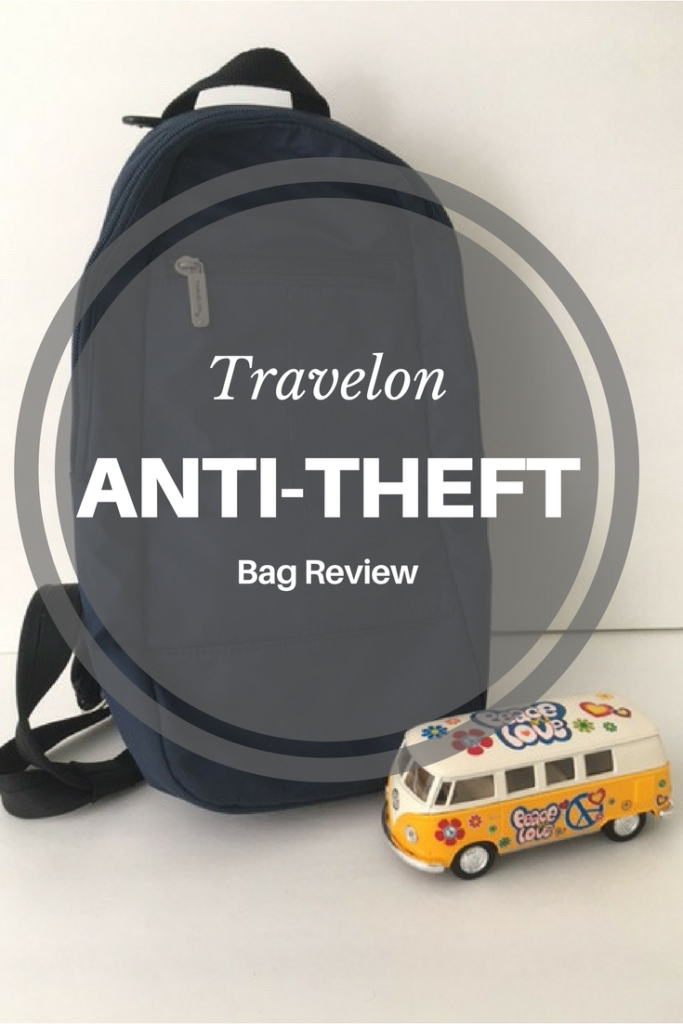 Features:
My Travelon Anti-Theft bag has some good features that made me feel safe putting  our important documents and items in it. First, there is a clip that goes around the zipper into the main body of the bag. It makes it so someone walking behind me would have to unclip the zipper before they could unzip my bag.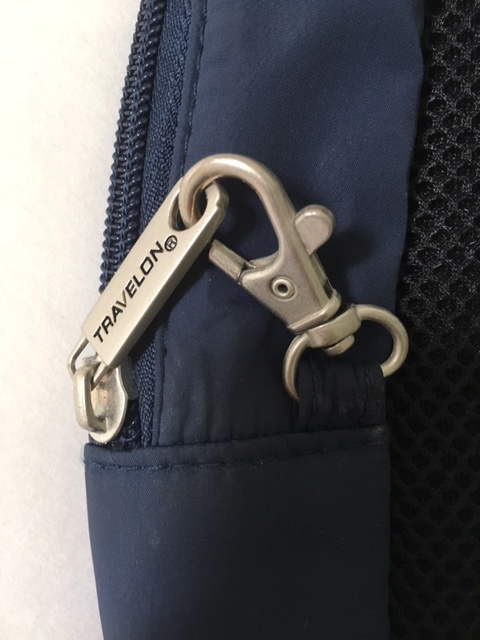 A similar latch is also where the strap connects to the main body of the bag. Lots of times, these straps are just unbuckled or ripped off by the would-be thief. Again, this simple clip deters the potential thief from even wanting to try to rip this bag off.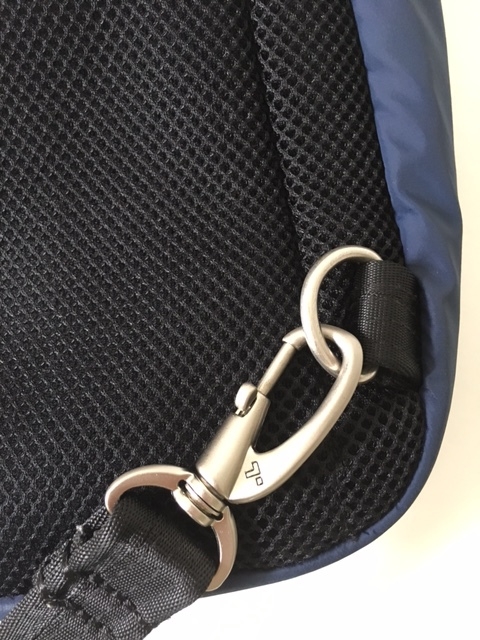 This Travelon Anti-Theft bag has only one strap which crosses the body. This makes it harder for someone to simply come up and rip the bag off your back. The strap is also slash-proof meaning someone can't take a knife to it to cut it off of you. The outside fabric is also slash-proof.
Inside the bag there is one main pocket as well as smaller pockets on one side for cards. This area of the bag has RFID blocking. There is also another zippered pocket inside the bag. This is where I like to keep important documents that we probably don't need all the time, but would need if there was a problem.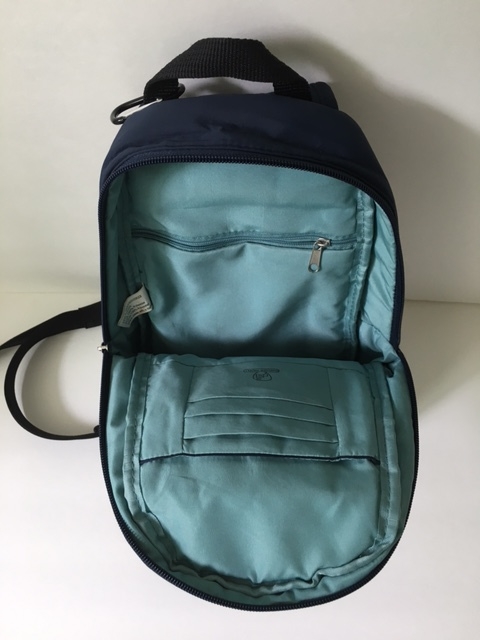 Another feature that I like is that it folds fairly flat. While this bag isn't large enough for me to use as a personal item on an airplane, it easily lays flat in the bottom of my suitcase and doesn't take up too much space. This way, I have it to use on our trip but I don't have to cram it full as a personal item.
How We Pack:
Between Ben and myself, we usually each take a small bag when we are going out sight seeing. Ben uses his Eddie Bauer Stowaway bag (see our review of that bag here) while I use my Travelon Anti-Theft bag.
I am in charge of the valuables: camera, passports, money, cards, metro passes, etc. My bag also usually has room for my sunglasses, the Yellow Van and a light sweater or scarf depending on the weather. (A scarf from Pierron Designs is usually on me while traveling. But if it gets too hot, I just fold it up and throw it in my bag.)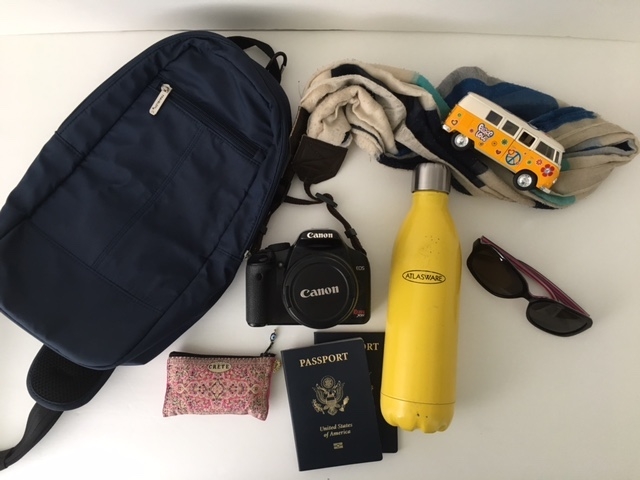 Ben is in charge of things that we might need to have that aren't as valuable/are replaceable. He usually carries our water bottles (including our Atlasware bottle that we love!), a mini-first aid kit (bandaids, medication, chapstick, etc.), external battery pack and charging cord, and any photo equipment we might need (Gorilla Pod, Selfie Stick, etc.) Even though Ben's bad is not an anti-theft bag, he uses a small carabiner to clip his zippers together. Again, this is a deterrent for any possible thief; they would rather steal from someone who has made it easy than from someone who has made it even slightly more difficult.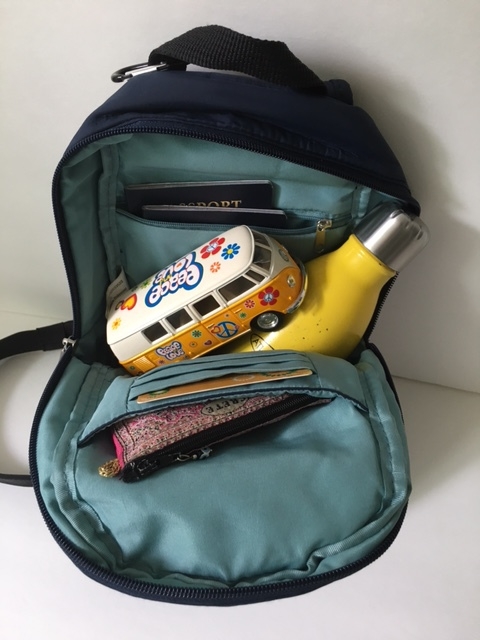 Sum Up:
If you are a traveler, I would highly recommend getting an anti-theft bag. I have loved the Travelon brand and think they do a great job with making their bags safe, usable and fashionable. They have a variety of styles, some of which you can find here. It makes it easy to find a Travelon Anti-Theft bag in a style and color that is right for you!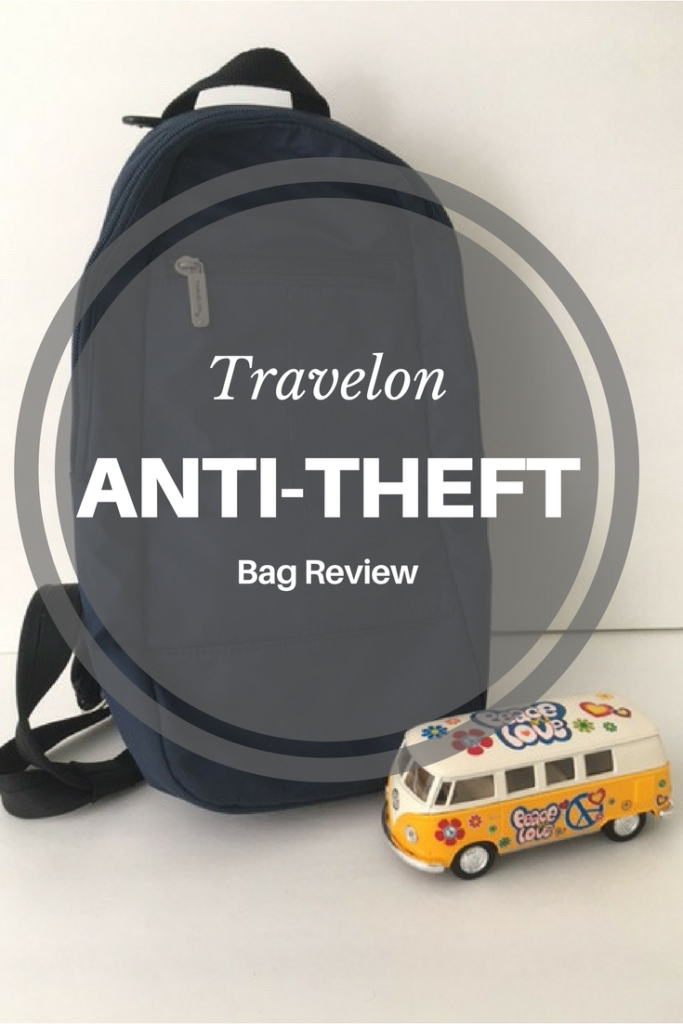 This post is not sponsored in any way! All thoughts and opinions are our own. This post does contain some affiliate links which means that if you buy a product through the link, we get a small commission to help us keep our blog going!