Get Away Today is a travel company that we work with that gives you great discounts on Disney (and other!) vacation packages! If you've ever looked into planning a Disney vacation for you and your family, you know that there aren't really a ton of ways to save a lot of money. But, look no further than Get Away Today!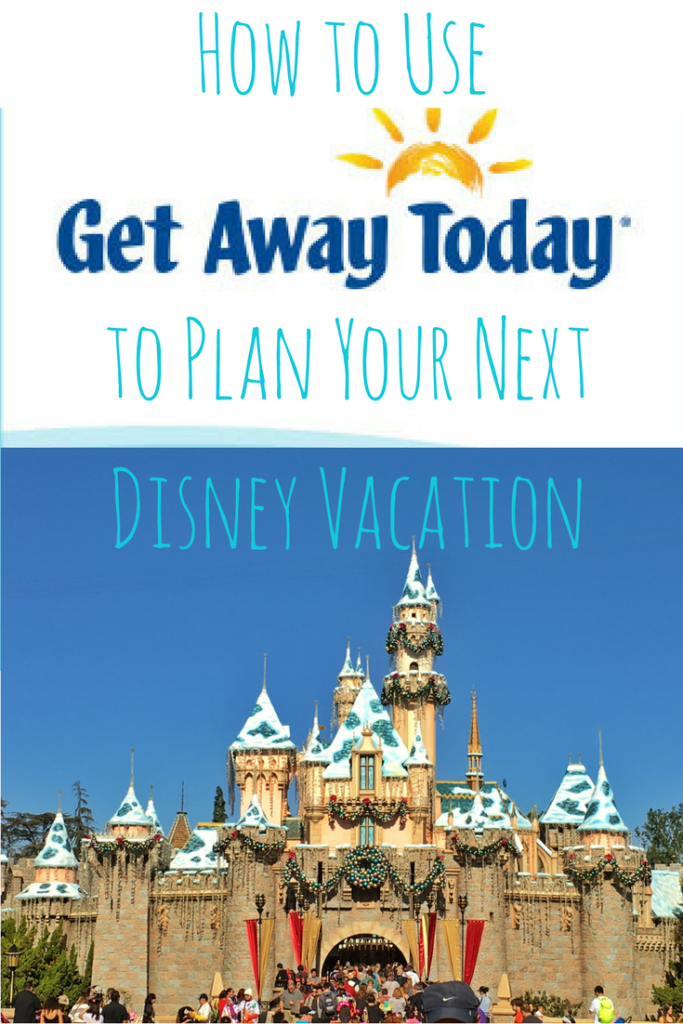 Discounts:
Get Away Today offers some discounts on Disney vacations. And the more you buy, the more you save! The longer ticket packages you purchase, the more you will save! Also if you purchase park tickets AND hotel packages with Get Away Today, you can save even more! AND if you use our special discount code:YellowVan you can continue to save!
More than Disney:
You can save on other vacations besides Disneyland with Get Away Today! They offer discount tickets and packages to other California theme parks and areas like Legoland, Universal Studios Hollywood, Sea World, San Diego Zoo, Knott's Berry Farm AND they offer discount tickets for Disney World!
In addition to discount park tickets, they also offer hotel packages. In addition to California and Florida packages, Get Away Today has sister sites they work with to help book cruise vacations and trips to other destinations including Hawaii!
Booking with Get Away Today:
Booking your vacation with Get Away Today is super easy. Use our link to Get Away Today (here) and you will go to their main website.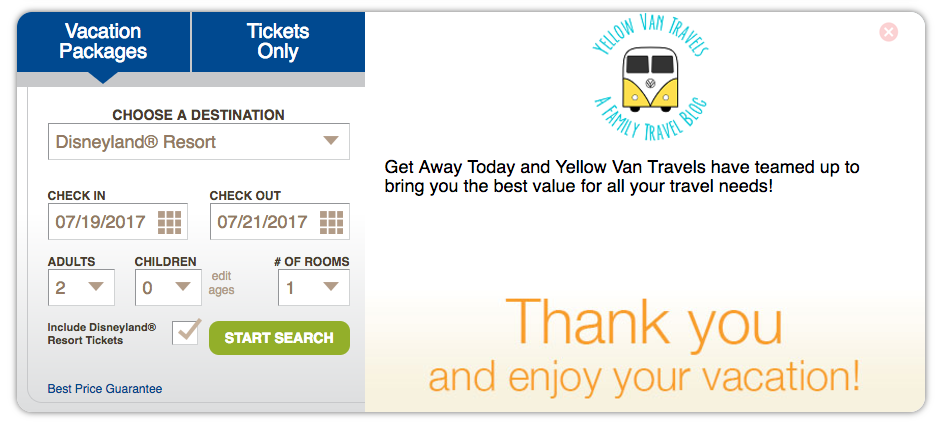 From there it is super easy to choose your destination, dates and number of tickets you need. Simply use the calendar and drop down menus to make your selections. Click "Start Search" and you're good to go!
It will pull up all sorts of options for your vacation package! Using the tabs at the top, you can sort by their recommendations, the price, alphabetically, how well they are rated or by looking at a map.
If you're not looking for a complete vacation package (hotels and park tickets) and you just want to look for park tickets, simply use the tabs at the top of the page. Hover over the one that says "Tickets" and then click on your destination. It will take you to a new page where you can choose your different ticket packages. Remember: the more tickets you buy, or the longer number of days a ticket has on it, the more you will save! When we went to Disneyland and Universal Studios Hollywood last fall, we made sure to book our Disneyland, California Adventure and Universal Studios tickets all together and it saved us some money!

As you scroll down the page, make sure to look at their current specials that are going on! Get Away Today is always offering a great specials for different kinds of tickets.
Links that appear on this page are affiliate links. We partner with Get Away Today and will get a small commission for anything purchased through our links. We think Get Away Today is a great company and only support companies and products we love! If you choose to purchase through one of our links, we would greatly appreciate it so we can continue sustaining our blog.