If you are a Harry Potter fan like me, chances are you would jump at the chance to step into the world that Harry Potter and his friends live in. That is the chance you get when you visit Harry Potter World in California (officially the Wizarding World of Harry Potter at Universal Studios Hollywood, yeah nobody actually takes the time to say or type that).
On our trip to Disneyland last fall we took a day to go up to Hollywood from Anaheim so that we could see visit Harry Potter World. I absolutely loved it.
There are two Harry Potter Worlds, one in California and one in Florida. I have only been to the one in California so that is all I can tell you about, although I have heard that the one in Florida is even better.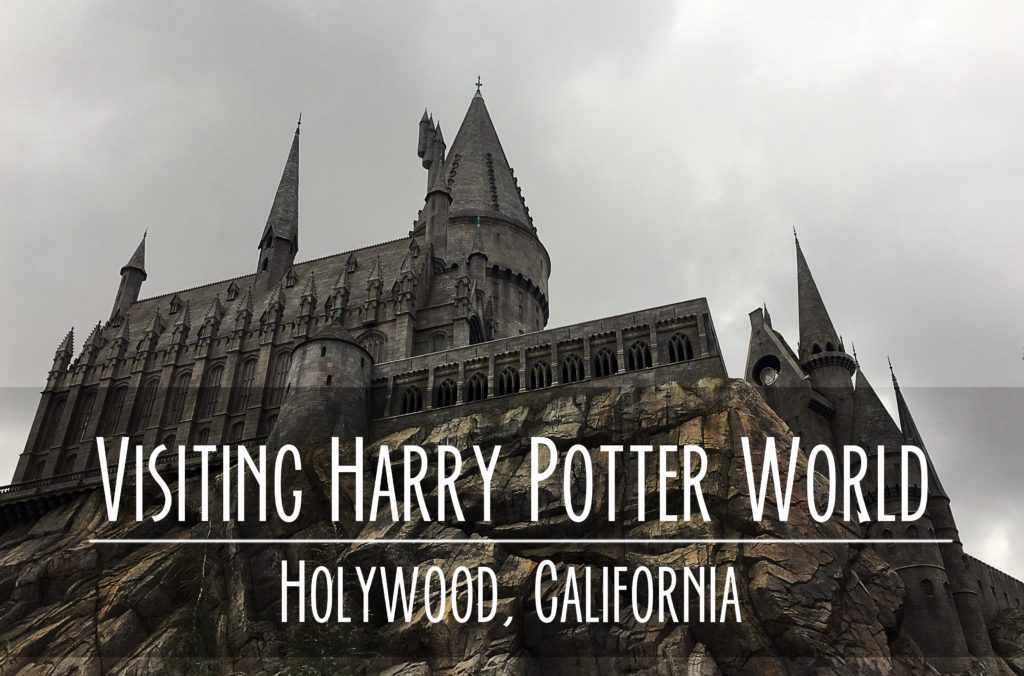 Harry Potter World is Inside Universal Studios
Unfortunately Harry Potter World is located inside of Universal Studios Hollywood. It is not a stand alone theme park. To get into Harry Potter World you will have to purchase tickets to Universal Studios. This is a real downside because the rest of Universal Studios is really not worth seeing. Especially if you are coming from Disneyland, the Universal Studios park feels like a cheap a gimmick. But you can save some money by using our affiliate link with Get Away Today!
My advice is to walk as quickly as you can through the rest of the park until you get to the gates of Hogsmeade. The only thing you don't want to miss is the Weasly's car just inside the entrance to the whole park. This is one of the actual cars used in the movie, so it is your first good photo op.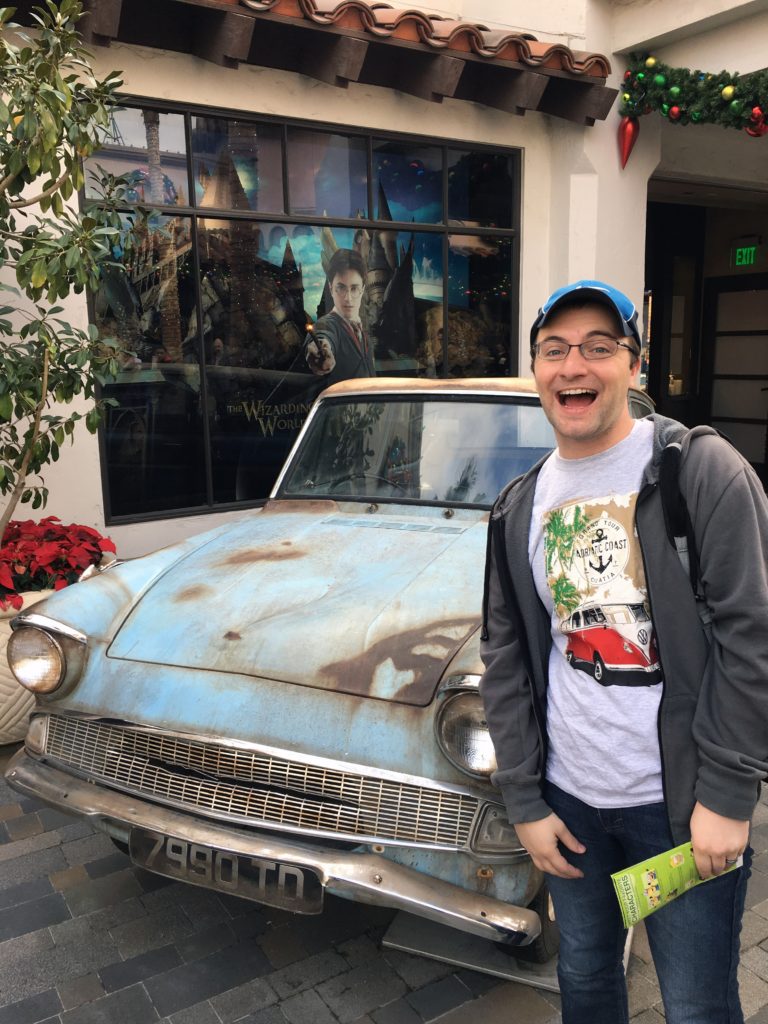 The Environment at Harry Potter World
Once you get to Harry Potter World everything gets much better. The entrance to this part of the park is the gates of Hogsmeade. Walking through these gates transports you into the world of the Harry Potter books. Here you can walk through the streets of Hogsmeade, visit the shops and taverns the characters go to, and make your way up to the great castle of Hogwarts.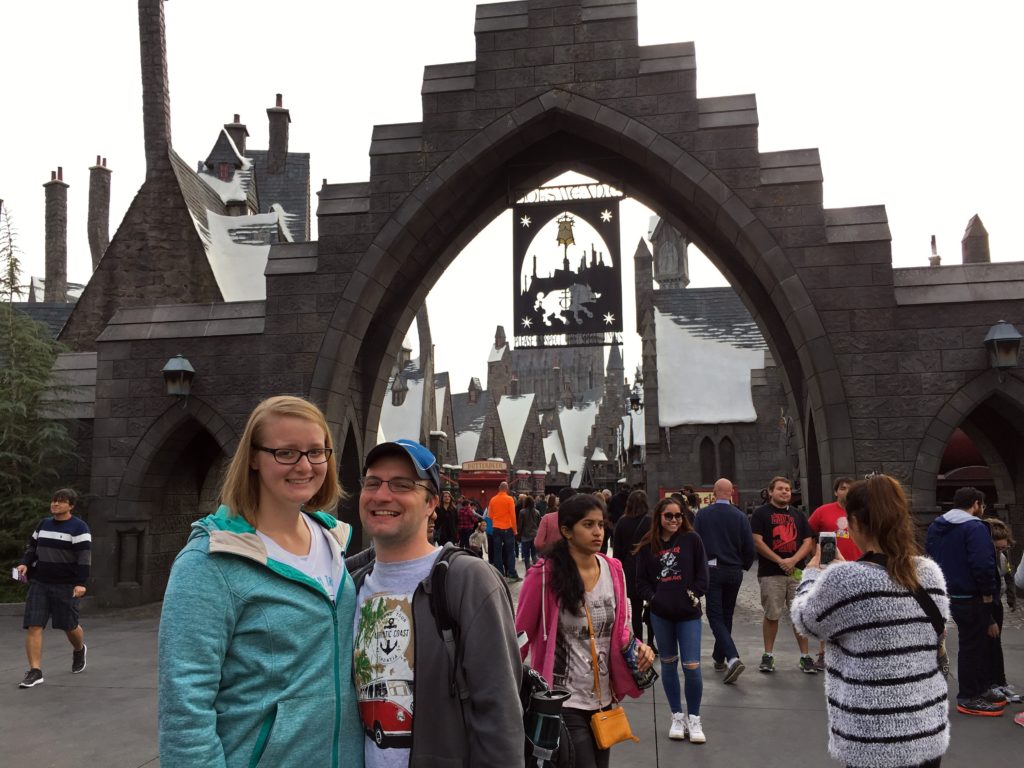 Everything is done really well in Harry Potter World to make it feel as much as possible like the real thing would be if it were real. The staff in Harry Potter World are all dressed in wizard robes, and many of the visitors are to. All the staff we ran into were very invested in maintaining the feeling of the place by staying in character. Unlike Disneyland none of the staff are acting as characters from the books themselves, but just as witches and wizards who inhabit that world.
The entire experience of Harry Potter World of course exists to get you to buy Harry Potter merchandise. Even more than most theme parks this seems to be the case. Shops make up a majority of attractions in Harry Potter World, but fortunately because they are shops you want to see from the books they seldom feel like a distraction.
The Rides at Harry Potter World in California
At the Harry Potter World in California there are only two rides. I am not much of a ride goer generally so this did not disappoint me too much. That being said because I do like Harry Potter so much I actually rode both of the rides (also because my friend who was not allowed to ride threatened my life if I didn't).
The main attraction is the Harry Potter and the Forbidden Journey ride. The main path through town will lead you up to the Hogwarts gates and this is where you get in line for the ride. The line winds through the castle, so it is probably one of the most enjoyable lines you will ever stand in. Once you actually get inside the castle in you will need to leave any bags you have in a locker.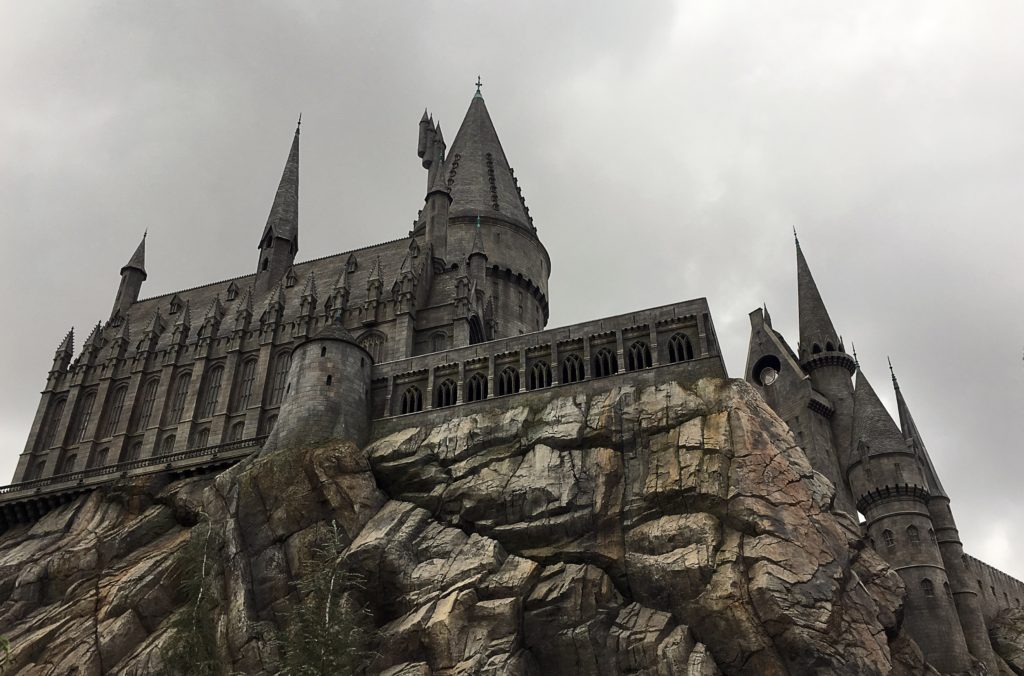 Even visitors who can't ride (like my friend) will normally go through the line with their friends and family who can so that they can see the inside of the castle. At the end of the line they also have a place where parents with children who can't ride can stand, wait for the other parent to finish riding and then switch. I thought that was a very convenient feature since the line for this ride can get outrageously long.
The Forbidden Journey is a multimedia ride where you fly in a row of seats suspended from an arm and wear 3D glasses for effect. It is a pretty nice run down Harry Potter memory lane, but it is a bit jerky. The second time we rode it I felt pretty sick, but that might of been from too much butterbeer.
The other smaller ride is called Flight of the Hippogriff. It is a small rollercoaster with a front car shaped like a hippogriff pulling a line of wicker baskets. The line for this ride winds its way past Hagrid's house and through his pumpkin patch. An animatronic Buckbeack greets you at the front of the line.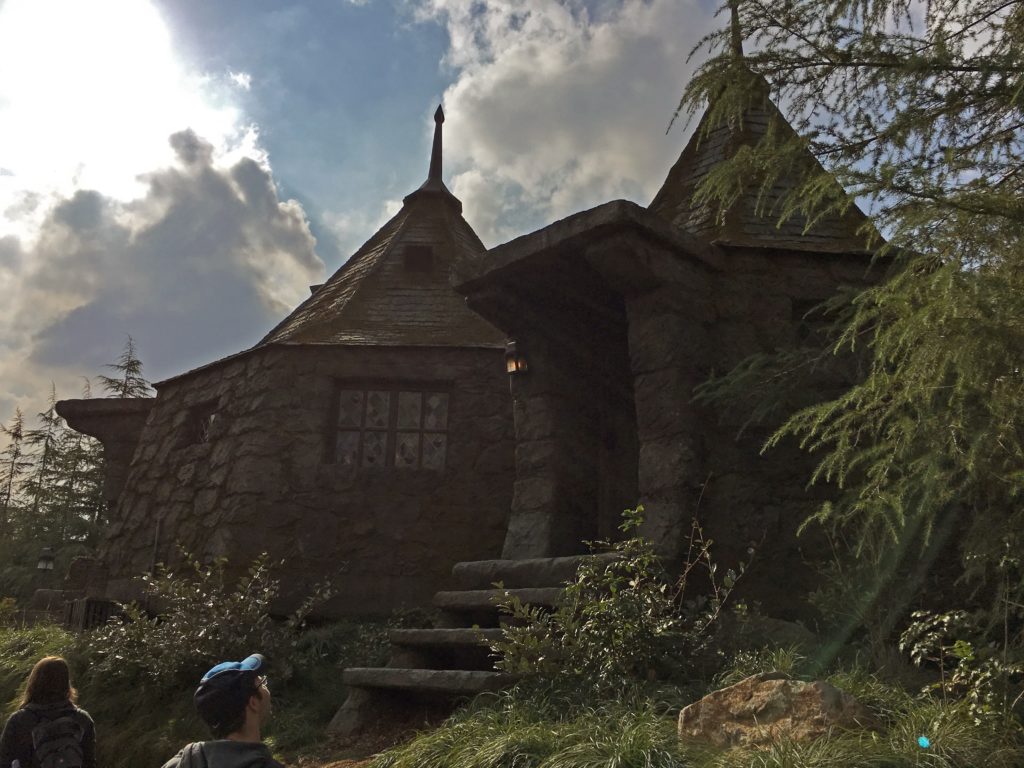 The Wands at Harry Potter World
Wands are a big deal at Harry Potter World. Long before I even knew I was going I knew if I did go that I would be purchasing a wand. I imagine many big fans feel the same way. You can purchase a wand from Ollivander's shop, but first you will need to stand in line to get inside for the Ollivander's experience.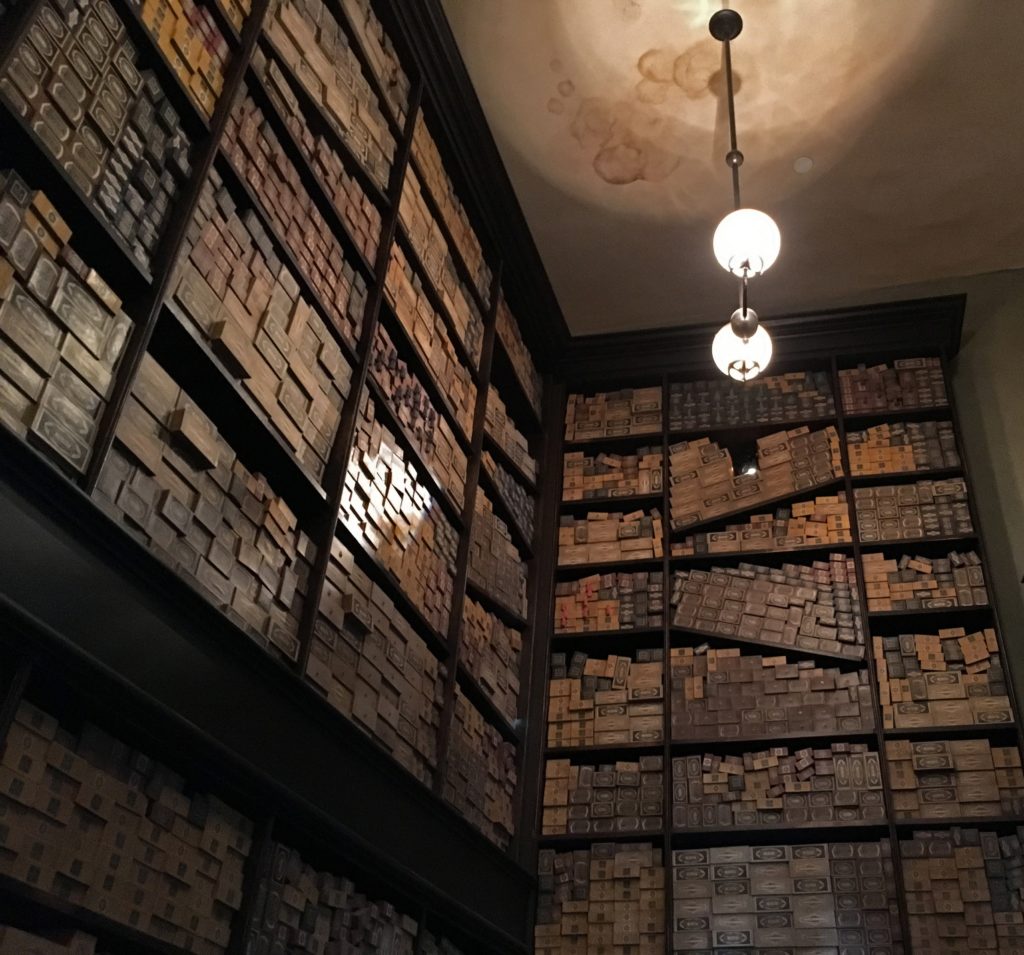 Some people don't want to stand in line for this, but those are probably not the people who want to buy wands. Once you get inside Ollivanders's you will be with a group of about 20 or so people. One of them will be chosen to have a wand fitting. They normally choose a child for this experience. This is quite fun to watch as they will have the child try a number of wands until the right one is found.
After you have seen a wand fitting you can go into a shop filled with all kinds of wands you can buy. Some of these are character replicas from the movies, but most of them are interactive wands of various wood types.
Interactive wands cost $50, which is obviously very expensive. If you are a big fan it will probably be worth it to you. If you are not a big fan you should not spend money on it. I am a big fan, and I bought a beautiful wand of vine wood. These interactive wands can be used at various spell points throughout Hogsmeade to make things happen inside of shop windows. While this gimmick is fun it doesn't justify the purchase of the wand itself, you need to really want a wand for its own sake. Harry Potter World is fully enjoyable without a wand (as evidenced by everyone I was with).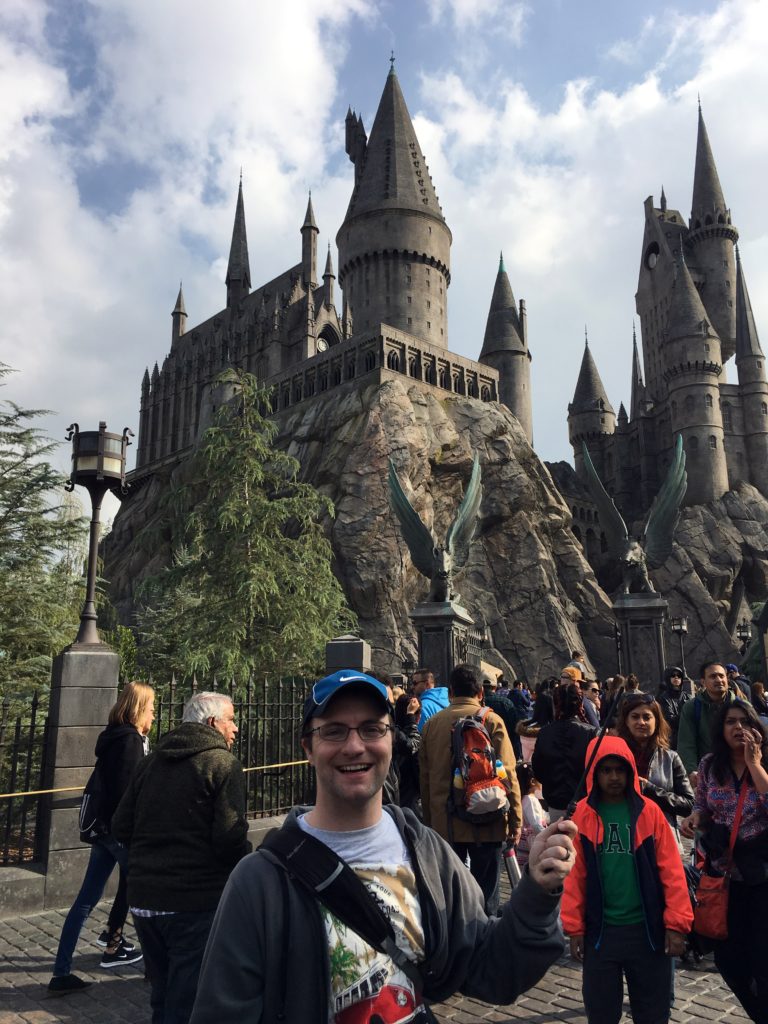 If you are going to purchase a wand (or robes, or hats, or broomsticks) I suggest doing it early in the day that you are there. Buying your items early enables you to walk around Hogsmeade with them. Walking around Hogsmeade with a wand makes you feel cool, walking around anywhere else with a wand (and wearing robes) could get you arrested. So, make the most of your time inside the Wizarding World.
The Food at Harry Potter World
Food is an important part of any theme park, but it is especially important when you know exactly what the food should be, and where it should be served. This is exactly the case with Harry Potter World. While you can't eat in the Great Hall of Hogwarts (that is where you get on the Forbidden Journey Ride), you can eat at the Three Broomsticks in Hogsmeade.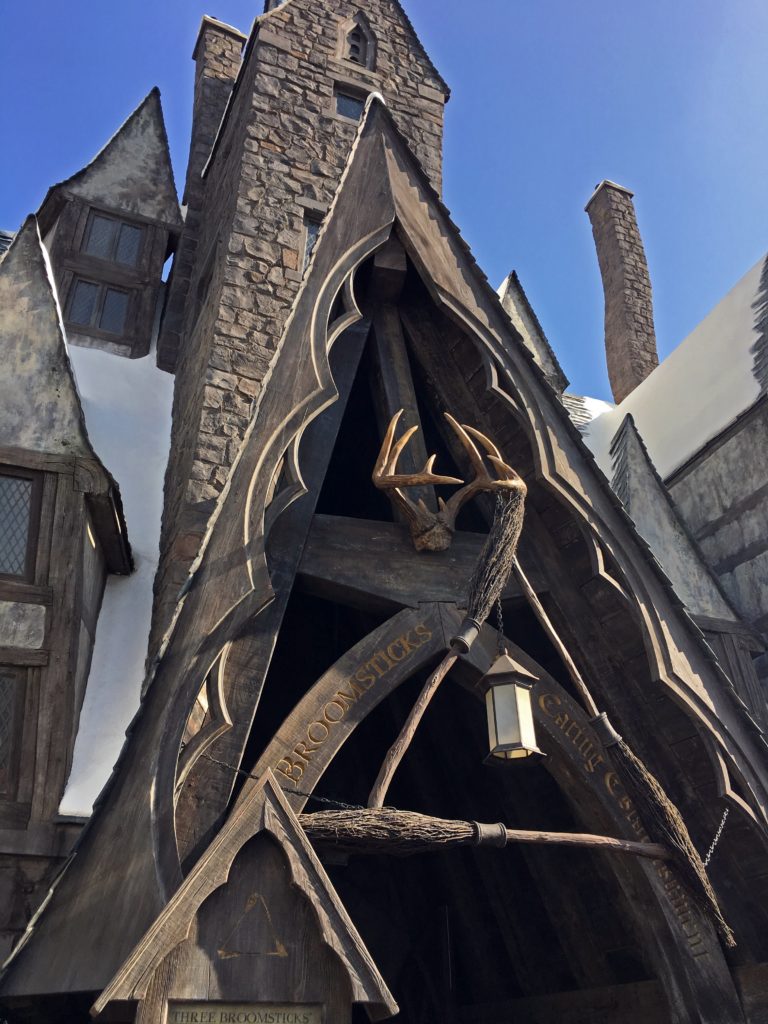 The Three Broomsticks is one of my favorite places it Harry Potter World. The recreation was awesome. Unfortunately the food is very expensive and not all that good. But just sitting in there is a lot of fun. If you don't want to pay for food you can go in the back door which is suppose to be the Hogshead pub and just buy a drink.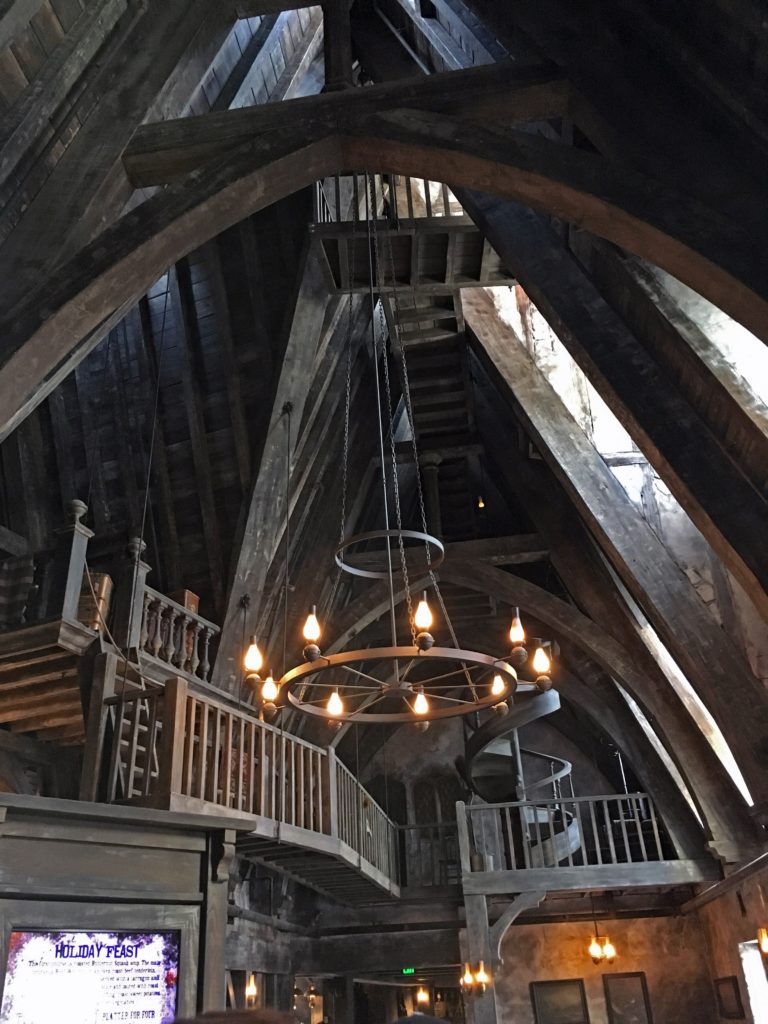 While the shepherds pie we ate was nothing to rave about, butterbeer on the other hand is AMAZING. I loved it in both hot and ice form. You can purchase it from the Hogshead or from the carts in the streets. I highly recommend it.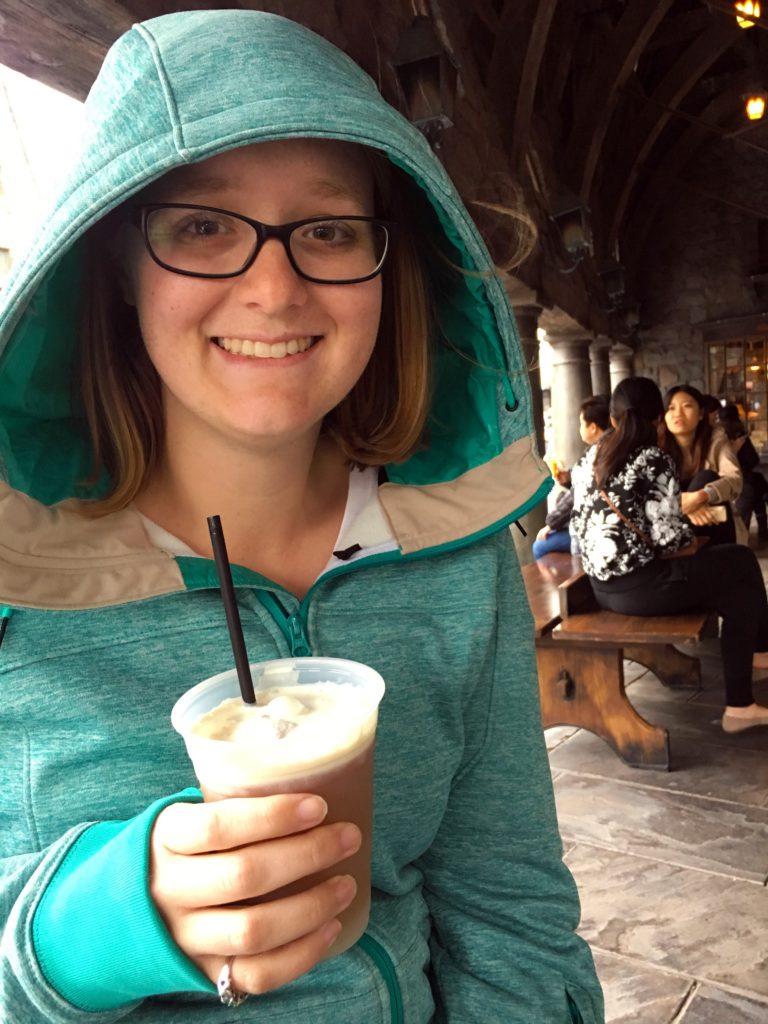 One other place you cannot forget is Honeydukes. The sweet shop was just I imagined it. When you walk in you are pretty much blown off your feet by the smell of sugar hanging in the air. They sell all the kinds of candy you are familiar with from the books (at a premium price of course). Meagan bought a chocolate frog here, complete with a collectible wizard card.
Sum Up
I highly recommend Harry Potter World in California to all Harry Potter fans, especially if you cannot get to Florida for the bigger one. I would not however recommend it for people who are not fans, because the rest of Universal Studios is so lackluster, it is only worth the price of admission for Harry Potter World.
Speaking of admission, you can save money on your next trip to southern California and Harry Potter World by using our Get Away Today affiliate link.
I could spend all day just hanging out in Harry Potter World swishing and flicking my wand. I loved walking through the shops, strolling through the streets, looking up at the castle, and even the rides. I'm sure if you like Harry Potter you will love it too.