As we've been out and about filming music videos these last couple months, we've had a new toy in our camera arsenal. It's a piece of camera equipment that at first look appears to be a selfie stick, and it is, but it is an advanced kind of selfie stick like none you've used before.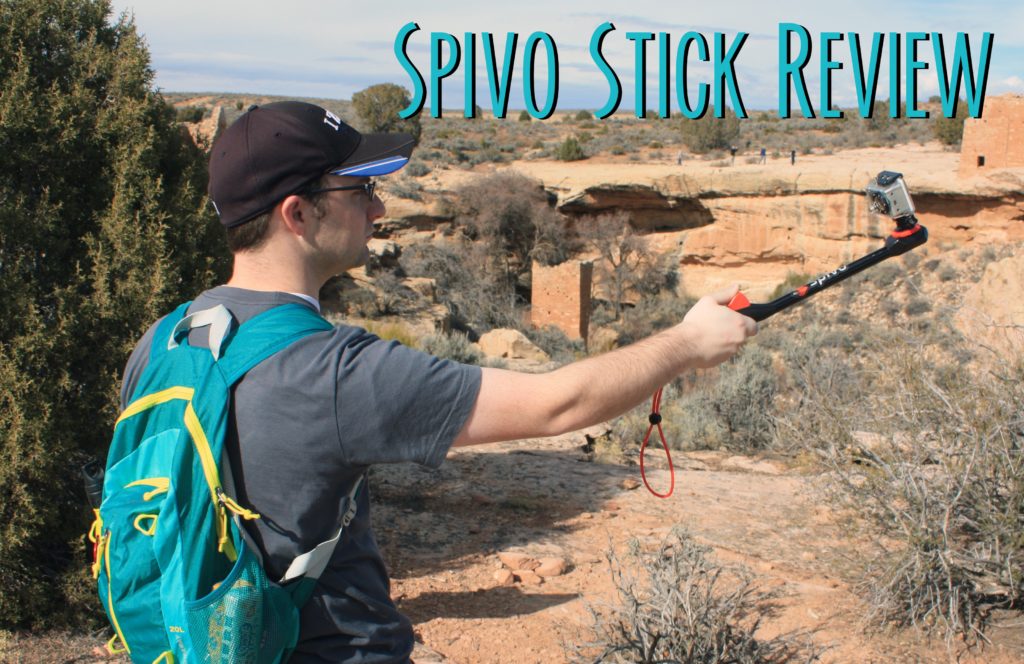 What is the Spivo Stick?
The Spivo Stick is a selfie stick made to be used with a GoPro or other action camera. It's main selling feature and what differentiates it from other similar sticks is that the camera mount can swivel 180 degrees with just the press of a button on the Spivo Stick handle. This mechanism allows you to easily switch between filming yourself and filming the world around you.
This is a really nice feature for us as it allows us to take footage that we couldn't before. For example when we are singing for a music video in a particular location, like a cliffs edge, in the past it was just that one shot that we could get, now we can also capture the rest of the location by swiveling the camera back and forth.
When out on the trail or at an attraction we can also get footage of us and what ever we are doing, while also easily showing you what we are seeing. We have mostly used the Spivo Stick while hiking so far, but we are excited for the possibilities it will present to us on our trips this year.
Other Things to Know About the Spivo Stick
The Spivo Stick is made for adventure, as such it is incredibly light weight. I could easily hold and use it while hiking without feeling tired at all. It is definitely our lightest piece of camera equipment.
The Spivo Stick uses a standard tripod mount screw. So you don't necessarily have to have a GoPro to use it. However since the main point is to capture footage of your adventure we do recommend using a GoPro or similar action camera. We use an original GoPro Hero with ours and it works great. I did once try and use my phone tripod mount with it, but when I tried to swivel it my phone fell off, so I wouldn't recommend that option.
There is no remote control option on the Spivo Stick, so unlike a regular selfie stick where you can start filming using a bluetooth or audio jack button, with the Spivo Stick you will have to start the filming first and then hold out the stick to capture your shot. This also means that the Spivo Stick is not great for taking pictures, as you will have to use a timer too make that work.
The Spivo Stick is very durable, so we feel perfectly safe taking it out on all our adventures. It also has a wrist loop to secure it to you. This mean you won't accidentally lose it over the side of a cliff, or have it float away from you while swimming.
The Spivo Stick is not collapsable so whichever size you get (either 18in or 26in) is the length you will be dealing with the whole time. This does make it more difficult to put in a pack, but it kind of looks cool to have the handle sticking out the top of your bag.
The Spivo Sick is significantly more expensive than your standard selfie stick. Coming in as of this writing at 49.99 USD. And while that means it is made of much higher quality materials, it is also going to involve more thought before purchasing.
If you do decide to purchase a Spivo Stick you can use our Promo code: BNSAVEDYOU15 in order to save 15% off your order.
Full Disclosure: The good folks at Spivo Stick provided us with a discount to purchase the Spivo Stick. We are also Spivo Stick affiliates and if you make purchase after clicking on one of links we receive a small portion of the proceeds. Thanks for supporting the Yellow Van!