During our long weekend in February, Ben and I took a little trip down to southeastern Utah to visit some national monuments. One of the two we visited was Hovenweep. Besides being fun to say, it was a super beautiful and interesting stop on our trip. Below we've included all the details you'll need to make your trip to Hovenweep a success.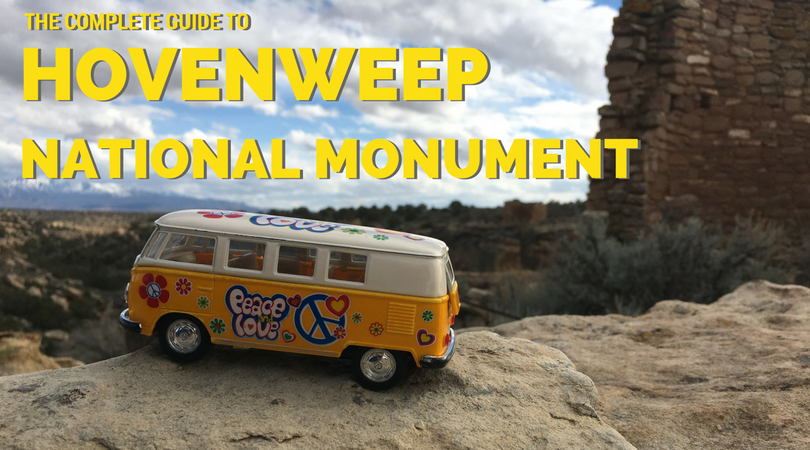 How to Get to Hovenweep National Monument:
Now, to warn you, Hovenweep National Monument is definitely in the middle of nowhere. And you have to drive through a lot of nowhere (including Indian Reservation land) to get there. If you are staying in Blanding, Utah (which is pretty much the closest civilization) it is only about an hour drive.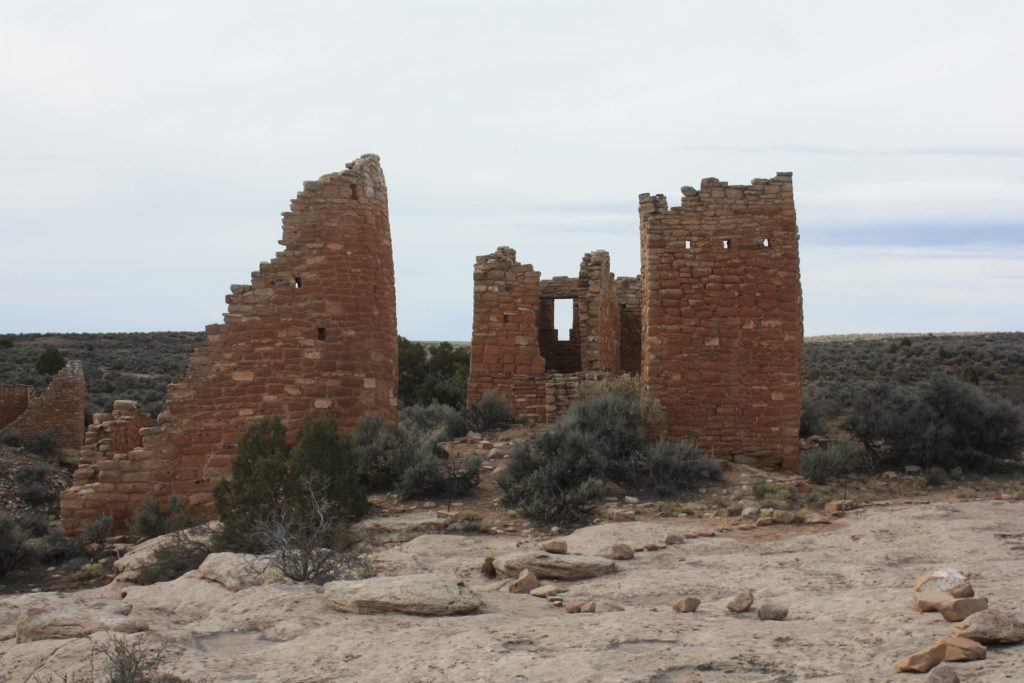 You'll head South on Highway 191 for about 15 miles before turning left onto UT-262. From there, directions get kind of messy. While the website for Hovenweep National Monument suggests not using a GPS, we used our phones and were able to get there without much problem. Our only problems were making sure to watch out for free range cattle and horses. Often times we had to slow way down in order to not startle the horses we drive right next to. We even had one horse run across the road in front of us. So make sure you are extra careful.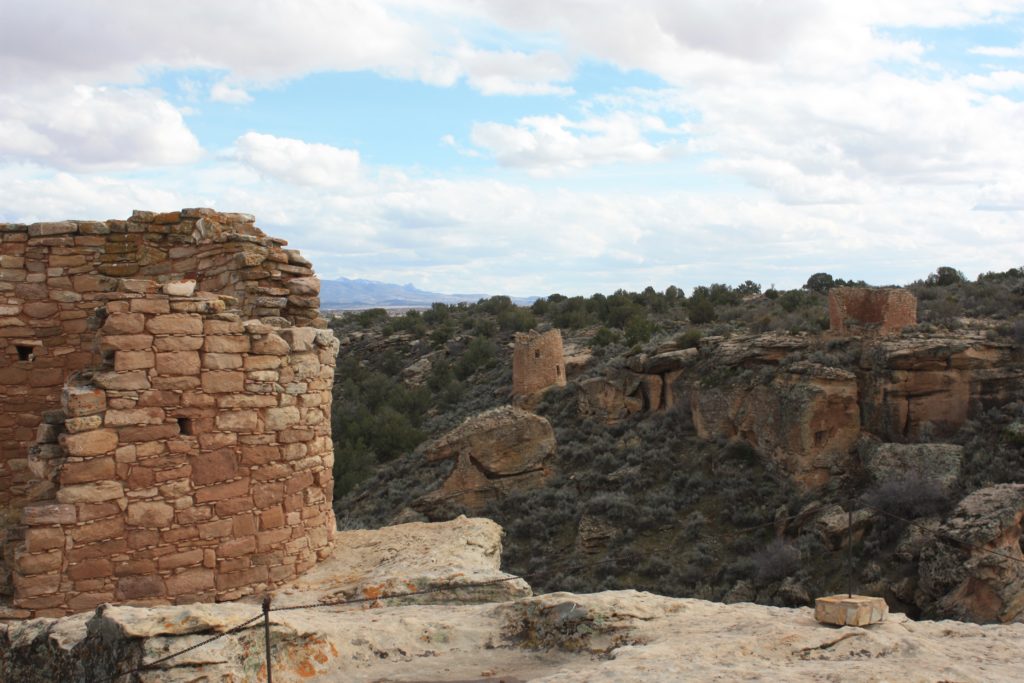 Once you get to Hovenweep, you'll see that there are a few covered picnic areas, nice and clean restrooms as well as a small visitor's center to start at before going down to actually see the site.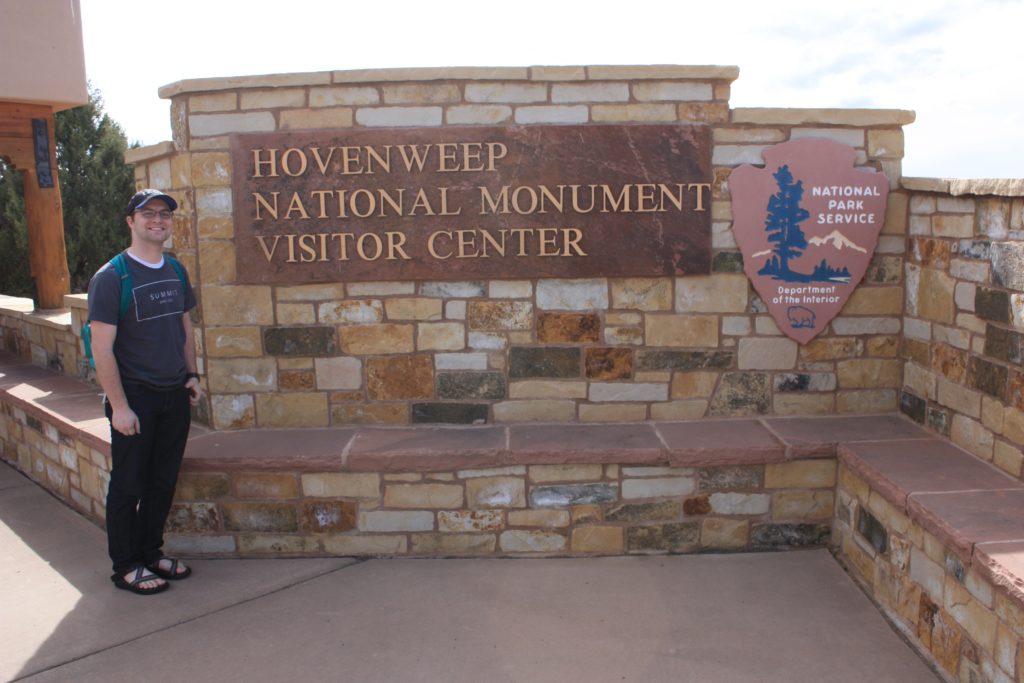 If you are coming from another area, like Cortez, Colorado or Bluff, Utah make sure to check out the directions from the National Park Service here.
There are no fees to enter this National Monument. There are fees for camping. For more information check out their website here.
What You Will Do At Hovenweep National Monument:
In addition to picnicking, using the facilities and taking a peek at the visitor's center, you probably came to Hovenweep to actually see the amazing structures, that are still mostly intact, built by the ancestral Puebloans.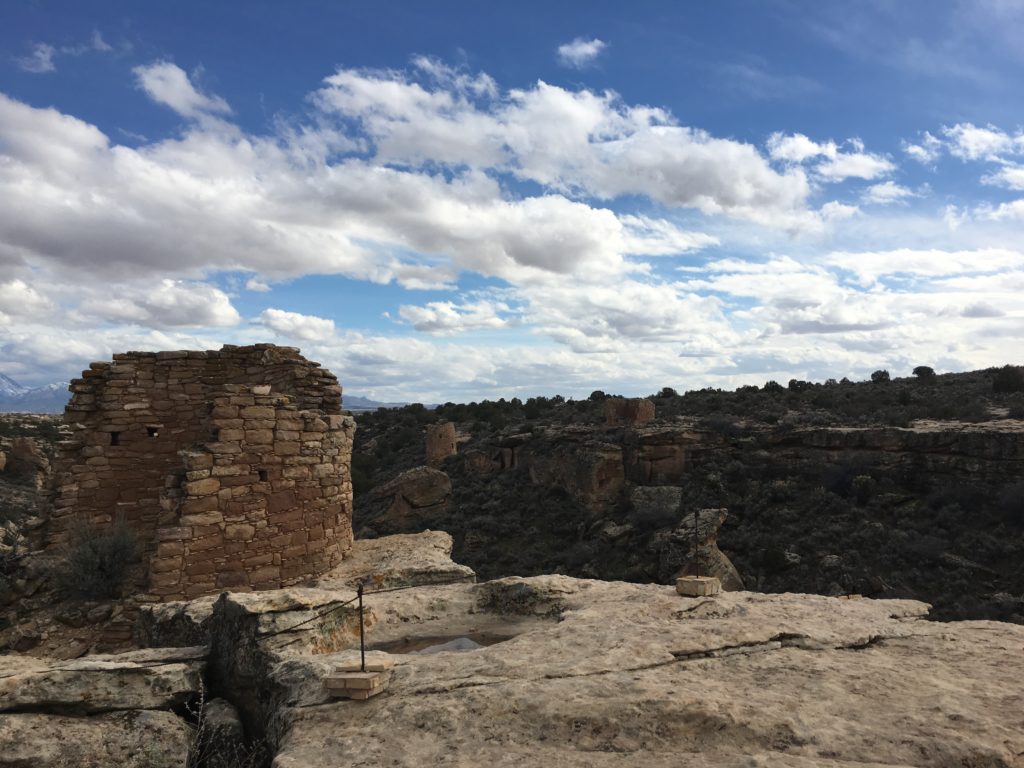 There are multiple options to take on the hiking loop around the main area of the monument depending on your time constraints. Make sure to stop at the Visitor's Center and talk to a ranger who can give you the best suggestions.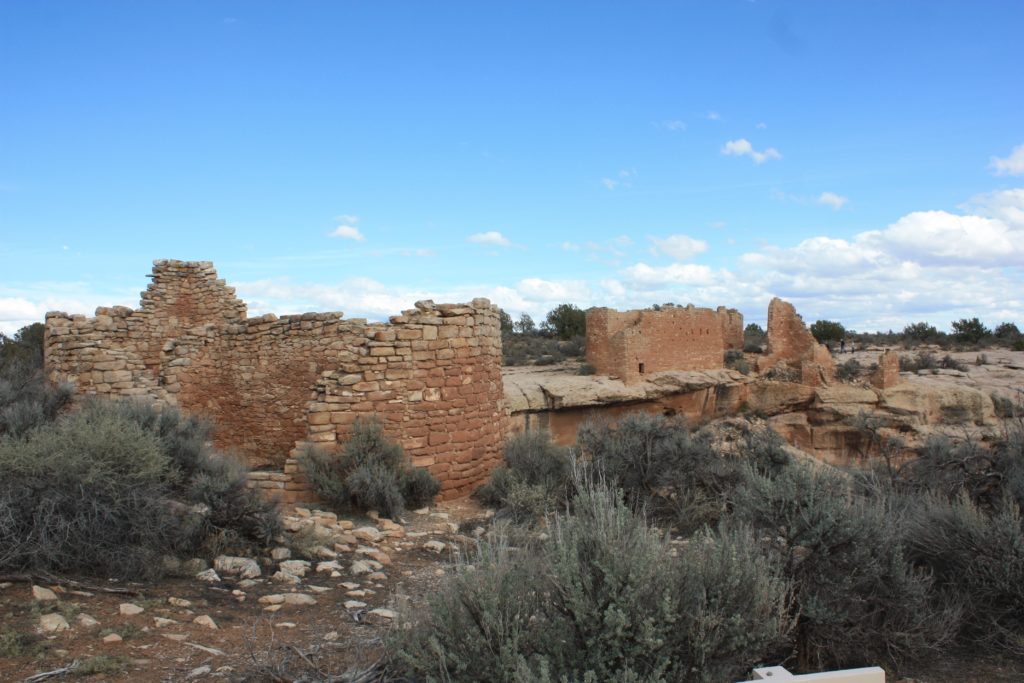 We took the 1-2 hour route which lead us all around the mouth of the canyon as well as down into the canyon for a bit. We took the 2 mile loop at a pretty leisurely pace and were able to do it in less than 2 hours. While it is flat for most of the loop, it can be quite steep when you're hiking down into and back up out of the canyon. The elevation change is about 160 feet overall (80 down and 80 back up). For someone like me who doesn't do well with elevation changes and hadn't been hiking since summer, this part of the hike was manageable. Definitely something I would do again. And if you do need breaks, there are quite a few spots that are easy to stop and rest.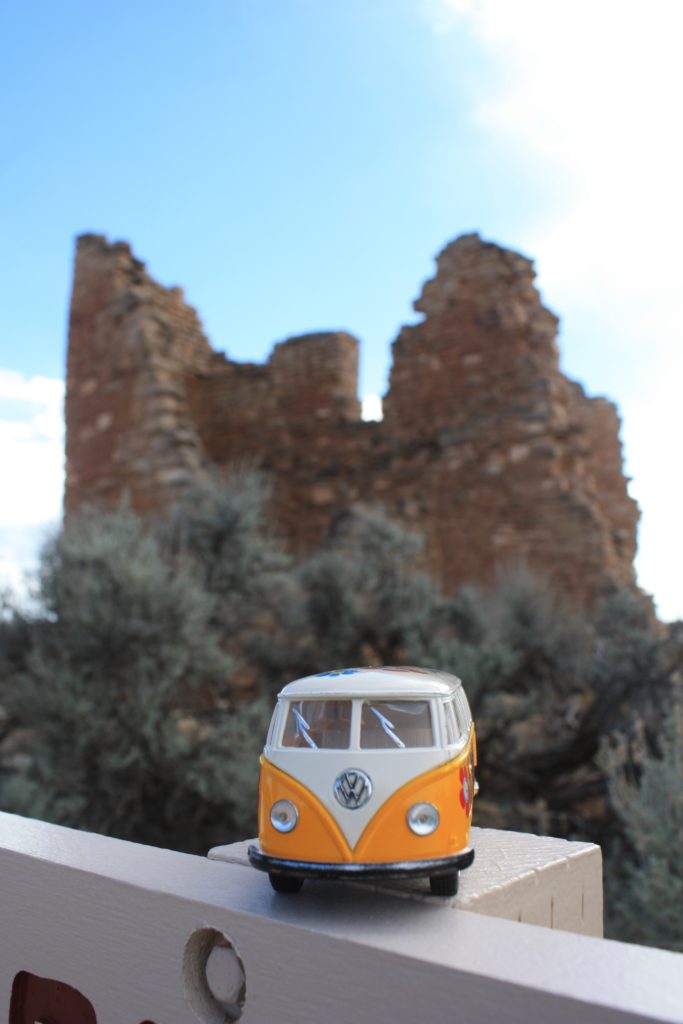 Overall, the main thing you do is walk/hike around the ruins. While this may not seem like the most exciting thing to do, it actually is quite amazing to see the ancient structures up close and to see how intact they still are. It is also nice because this monument is hardly ever busy!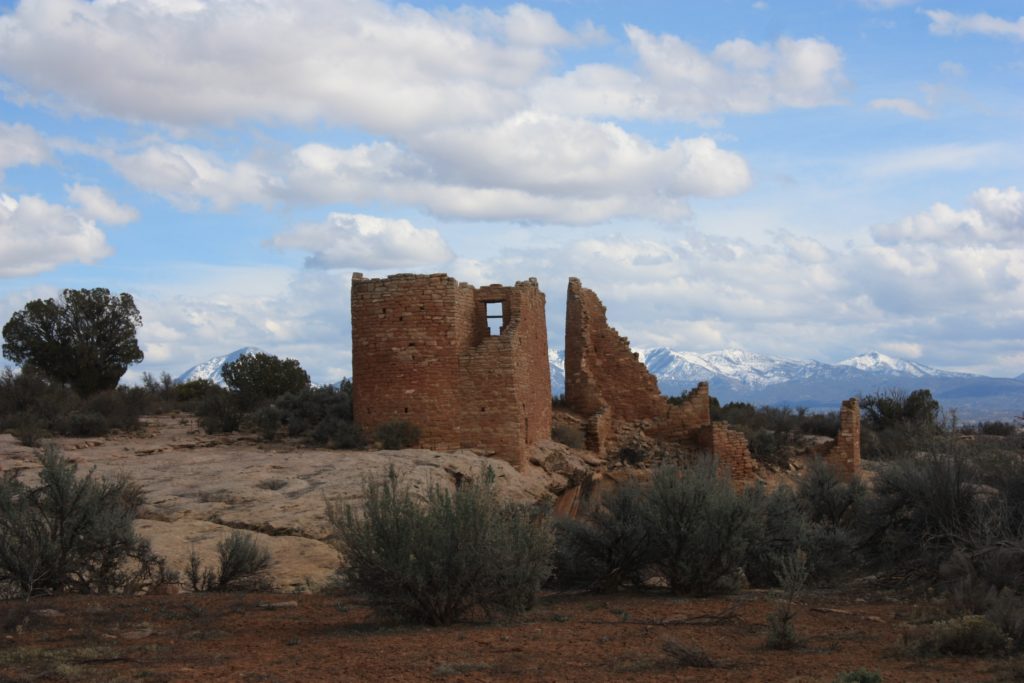 Sum Up and Tips:
Even though Hovenweep National Monument is about an hour from any form of civilization, it is still worth the trip! It is free to get in and has some amazing ancient history you can see right in front of you. Make sure you are wearing appropriate clothing for the weather (layers, hats, sunglasses, etc.) and make sure you pack in your own water! Even though they have water spigots and water fountains inside the visitor's center, the water tastes AWFUL! Seriously, it was the worst water I have ever tasted. I don't know if they have to heavily treat it or if it was just bad the day we were there, but just to be on the safe side, bring your own water. You'll thank us.
LIKE THIS POST? PIN IT FOR LATER!