One of the huge benefits of living in Utah is that there are little gems of nature close to nearly every town. Of course the big National Parks get all the press, and they are truly amazing, but there is also plenty to check out in less known areas. Kanarraville Falls on Kanarra Creek is just such a place. Beauty and wonder combine here to give one of the most rewarding hikes we have ever done.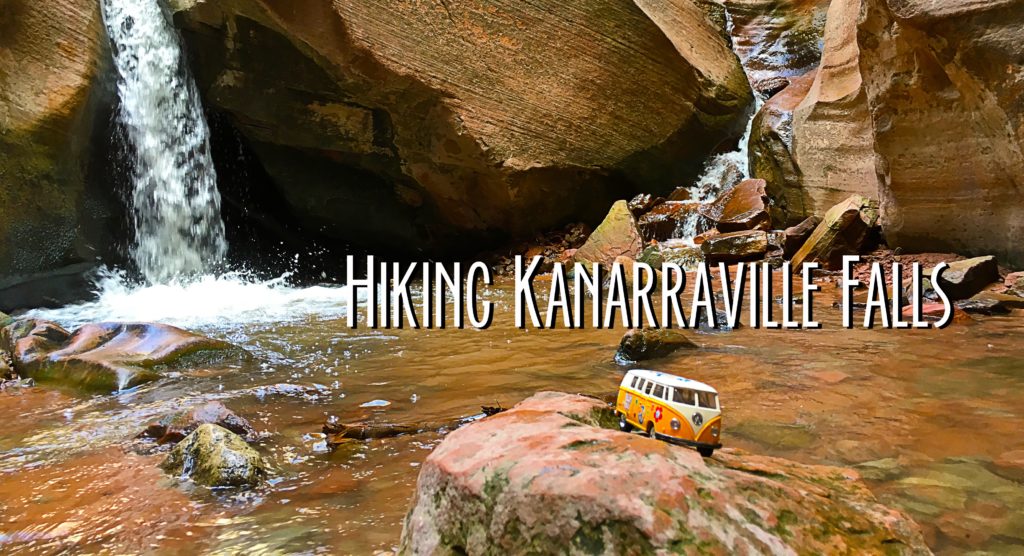 How to Get to Kanarraville Falls
It is actually fairly easy to get to the trail that leads to the falls. The town of Kanarraville is located just outside of Cedar City on the way to St. George. If you are headed South on I-15 you will take exit 51. If you are headed North take exit 42. Either way you will end up on Old US 191 which will take you into Kanarraville. Stay on that road until you get to 100 North in town. Turn East (toward the mountains) on 100 North and follow it until it terminates at the trail parking lot.
The cost is $10 per vehicle to use the parking lot. It is a self service envelope payment program. It is illegal to park on the streets of Kanarraville if you are hiking the falls, so please don't do it. We want to keep this beautiful hike open for everyone and it is not worth it to cause a problem just to save a few dollars.
Once you hare parked and paid you can head up the trail which is just above the parking lot entrance.
What You Will See and Do at Kanarraville Falls
Before You Start
Do not be dissuaded from this hike by what you see when you pull into the parking lot. The first part of the trail is bleak and steep, but it gets increasingly better the further you go.  This is however a moderate to difficult hike, so be prepared before starting out. Bring plenty of water for everyone and snacks.
Also be aware that much of the hike is in Kanarraville Creek, so water shoes or sandals are best. Flip flops will likely not survive the trip and socks will become thoroughly soaked. It is safest to bring a waterproof camera like GoPro or a waterproof case for your phone. Alternatively if you are going to take your phone you should at least keep it inside of ziplock bag.
The Beginning
After your initial assent from the parking lot you will wind your way around onto a slightly more scenic trail. This part takes a little while to traverse and will require you to do a couple stream crossings. There isn't too much to see along here so go as fast as you would like.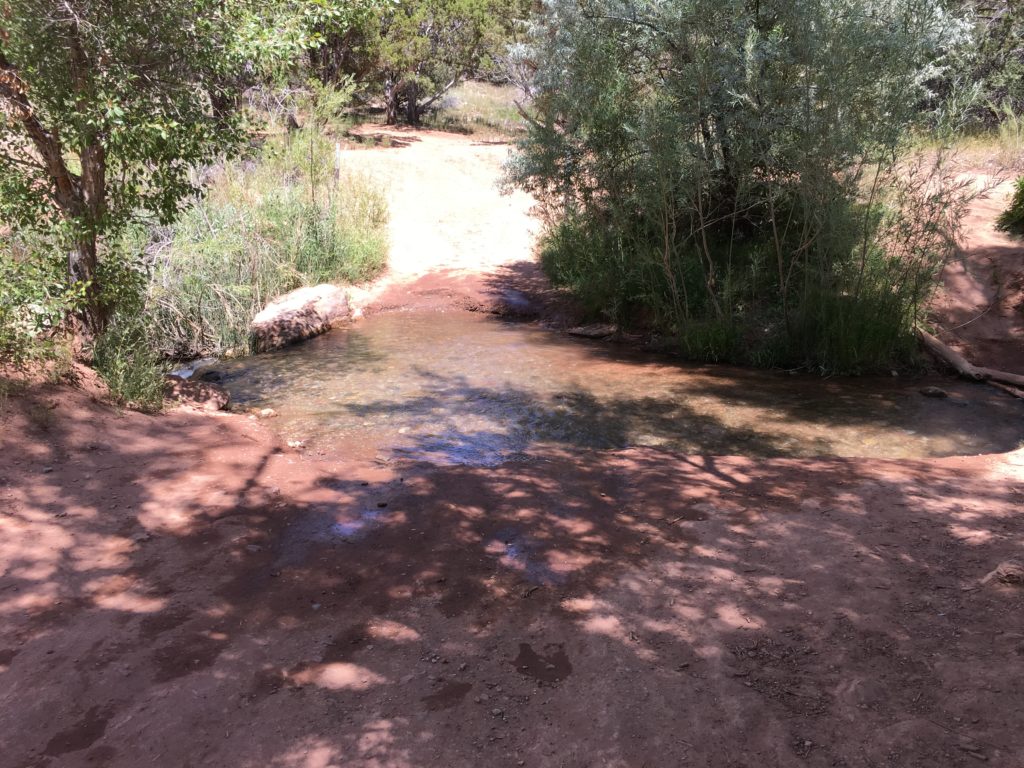 You will gradually start to follow the river more directly and things will get more exciting. During this part you can choose to walk on the trail or in the river at some points. If it is hot you might as well walk in the river as you'll be getting plenty wet later anyway.
The Slot Canyon
Eventually you will enter the slot canyon. This is where it really gets gorgeous. Of course slot canyons are susceptible to flash flooding, so do not hike here in the rain.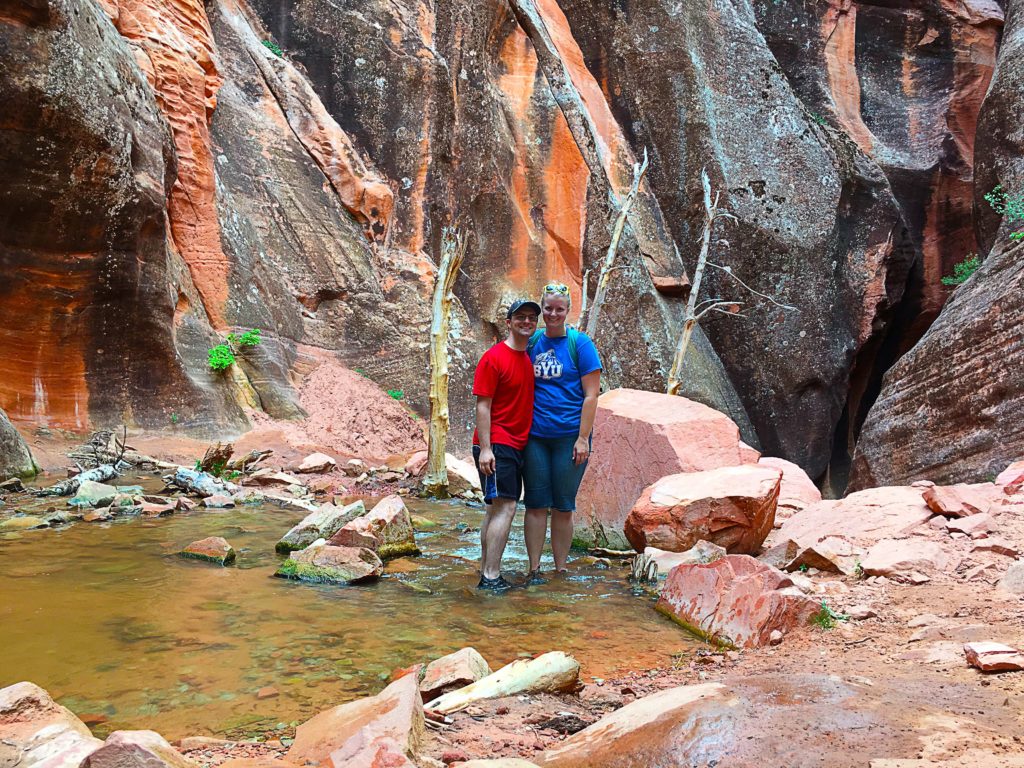 The trail in the slot canyon will cross and be in the river many times. There will be some mild rock scrambling involved along the way.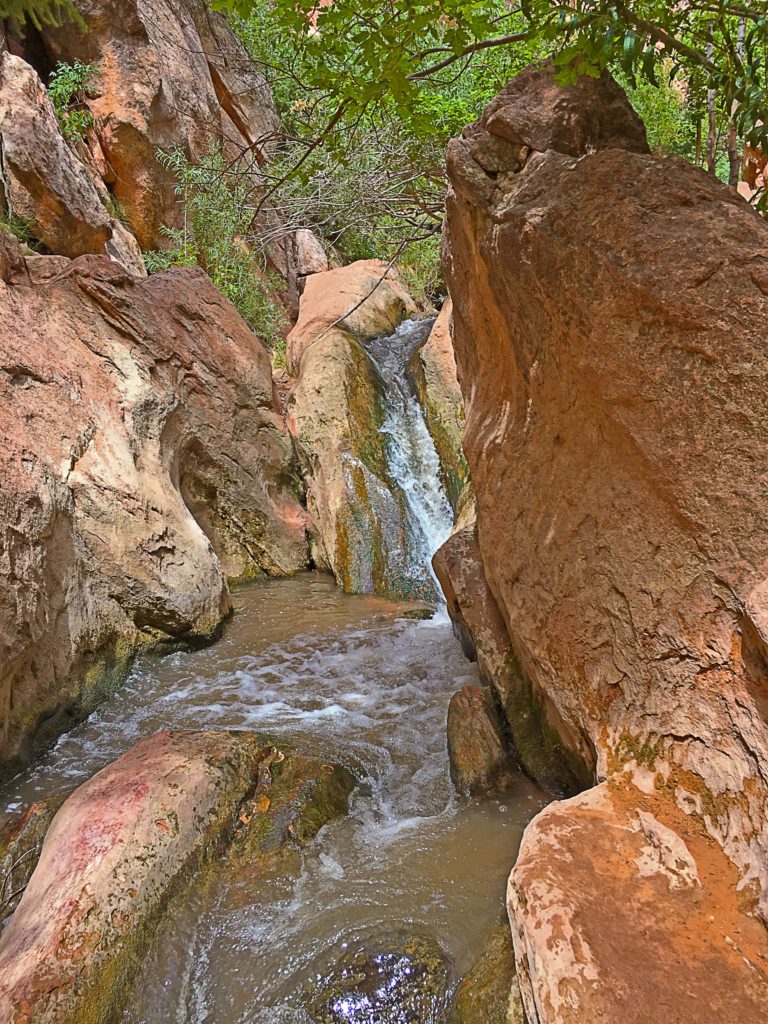 The views in here are spectacular so take your time and some pictures.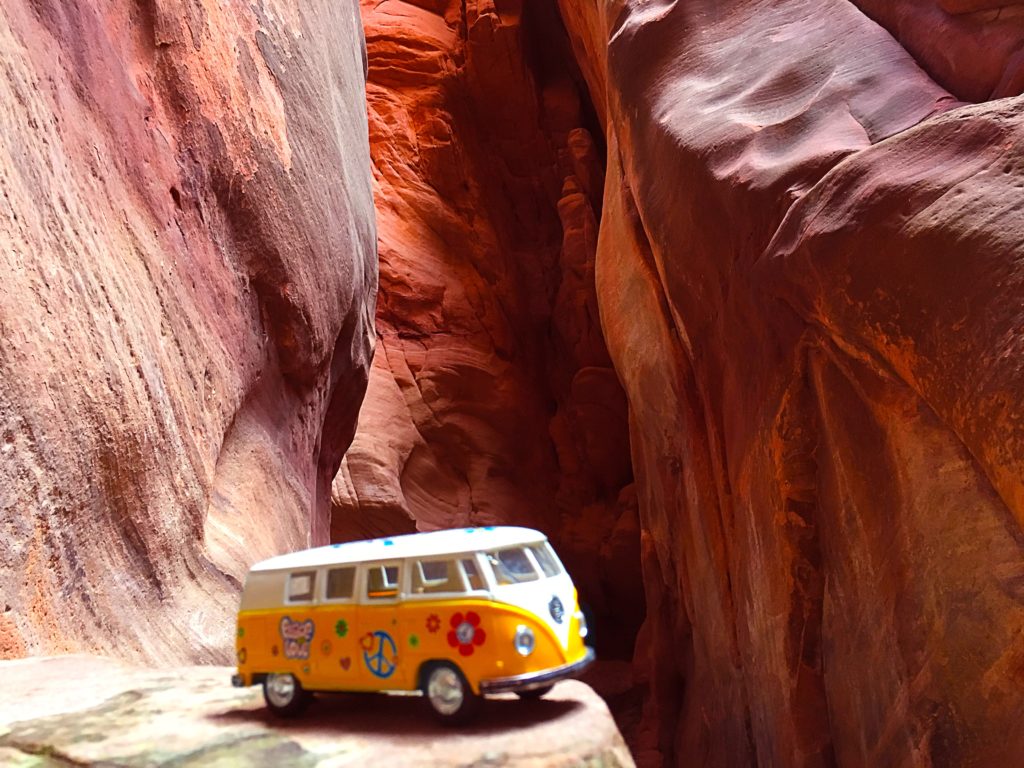 The First Falls
The first water fall you come to is pretty cool right there in the canyon. Neither of the falls are very large, but they are awesome to see.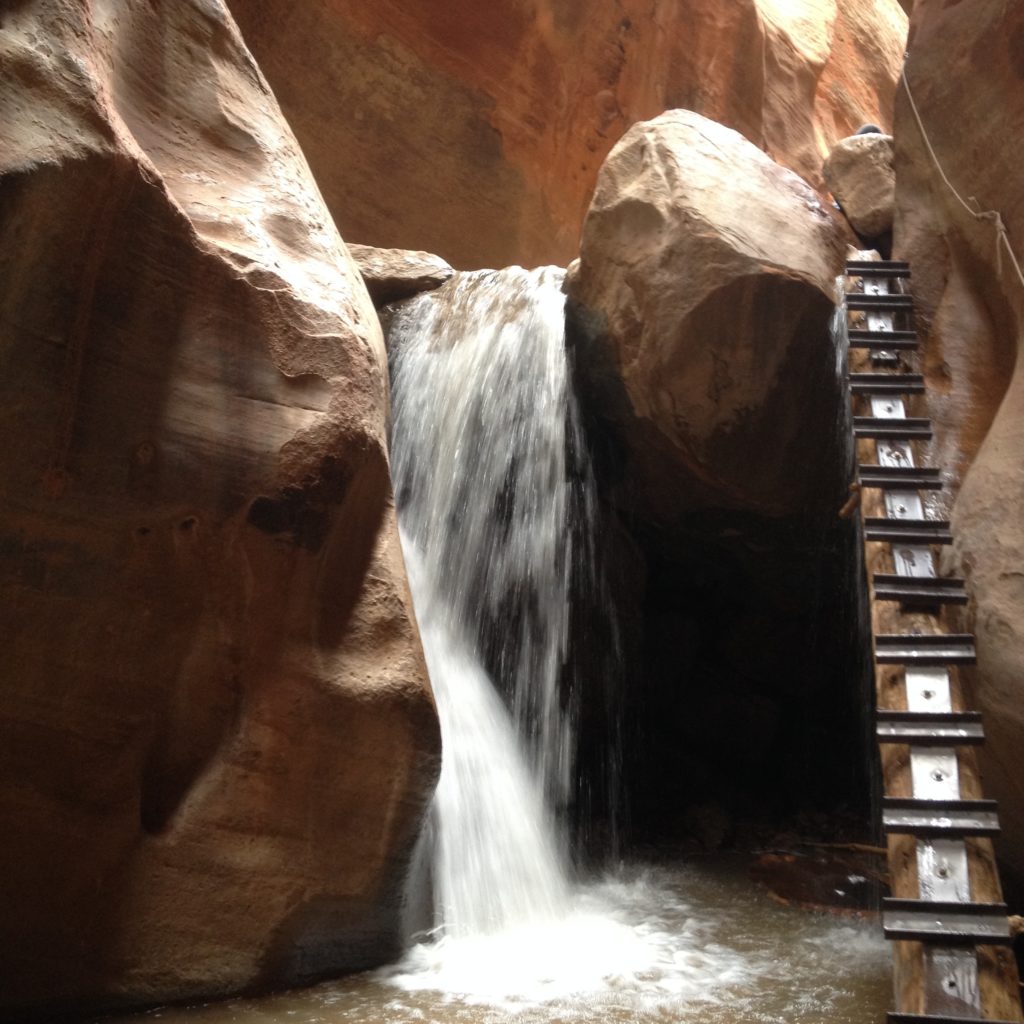 If you choose to go on at this point (which you should) you will need to scale a ladder on the right hand side of the falls. The ladder is made of a metal beam and there is rope set into the canyon wall to help you up. Children will probably need help. Of course only one person can use the ladder at a time so there is often a pile up at the bottom or top of the ladder. Just be patient and enjoy the waterfall.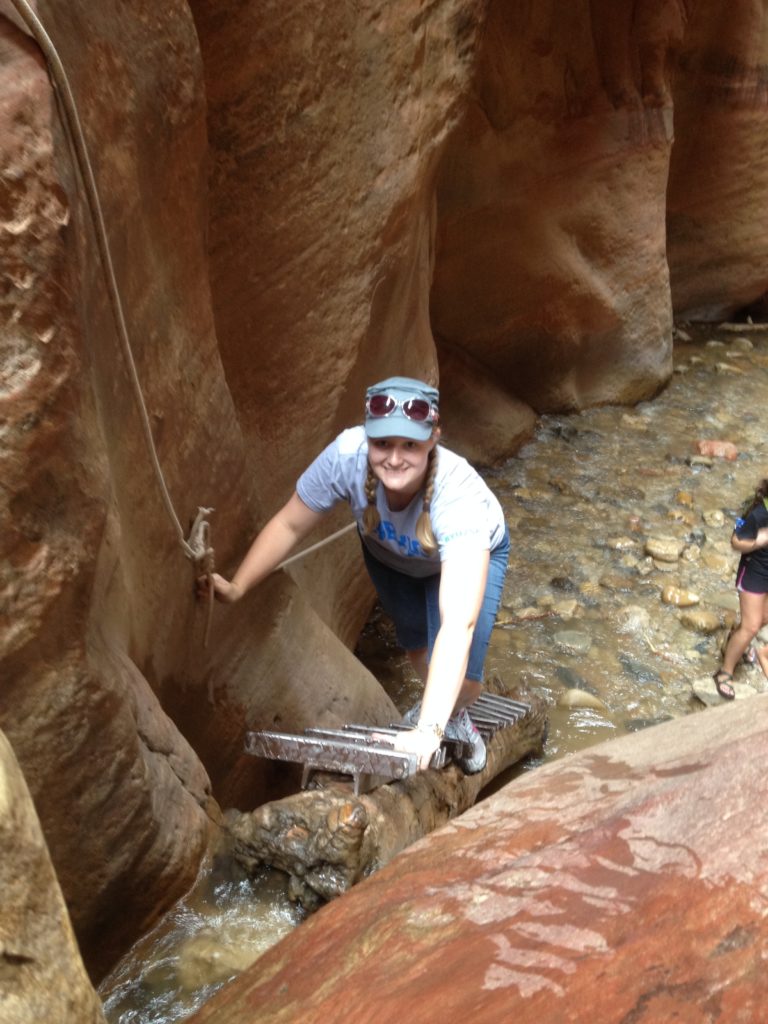 The Second Falls
Not far beyond the first waterfall is the second waterfall. You will have to scramble up some rocks to get here, but it totally worth it. The water here slides over the rock instead of making a straight fall like the first one. The best part is that you too can slide over the rock as these falls form two natural waterslides into the pool at their base.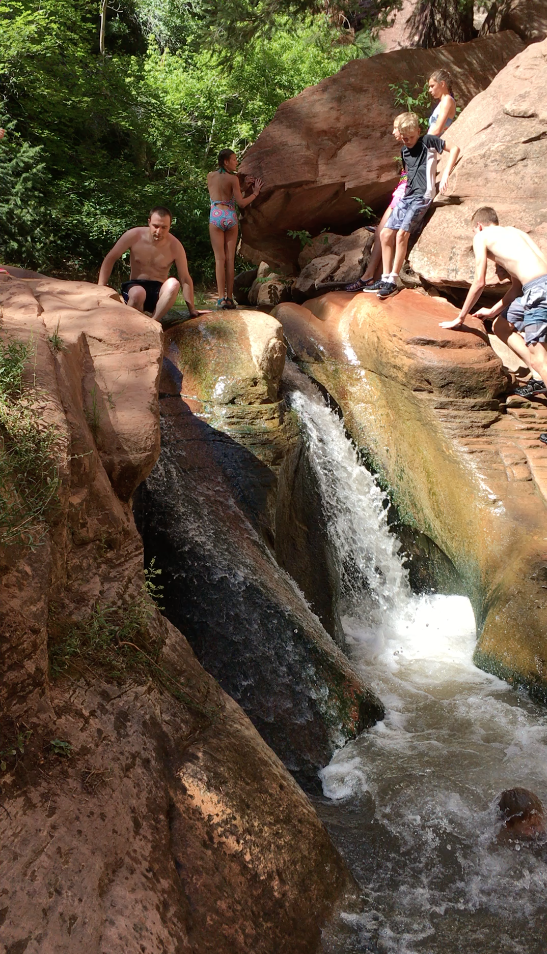 This is as far as we have gone up Kanarraville creek but people do go on further hiking through the water.
Sum Up
The Kanarraville Falls hike is super fun and should not be missed. It is a very accessible slot canyon. We have seen kids of all ages do the hike, both walking and in backpacks. Just make sure you know your ability and that you are safe.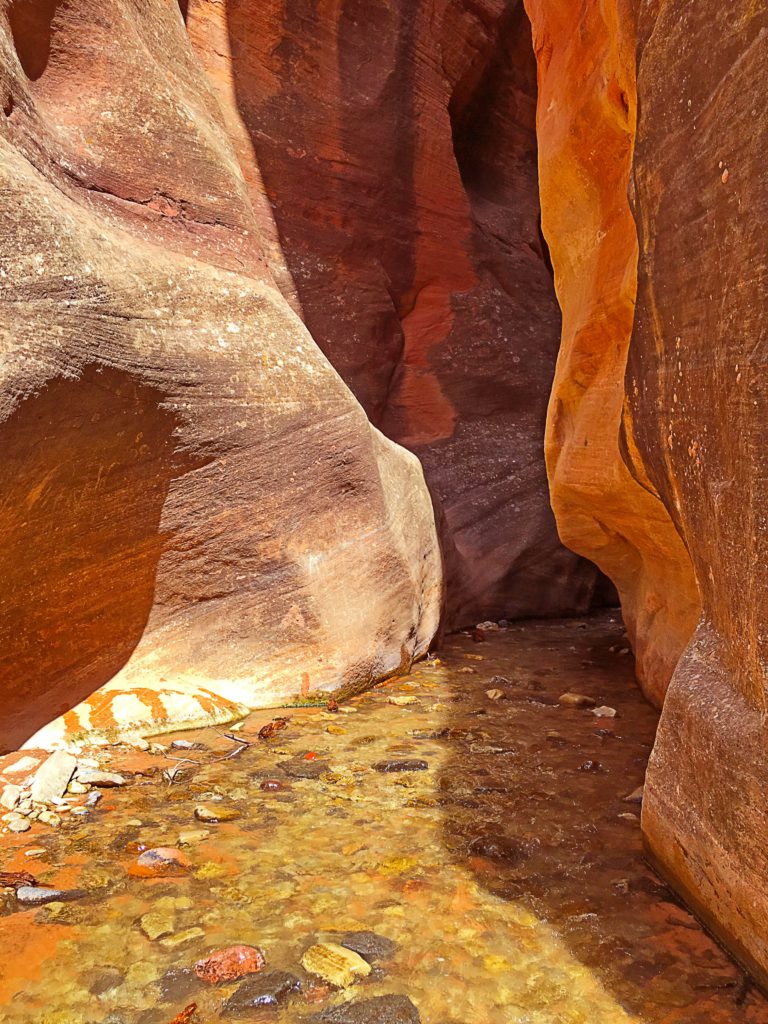 Because most of this hike is through water it is a good one to do during the summer, but we wouldn't recommend it in the late fall, winter, or early spring.