Red rocks are one of my favorite sceneries in the world. They stand over the desert in an incredibly awesome display of the majesty of nature. And while I love to look at the red rocks, there is one thing I like even better, and that is climbing on them. One of the best places to hike, climb, and crawl over red rocks is Pioneer Park in St. George.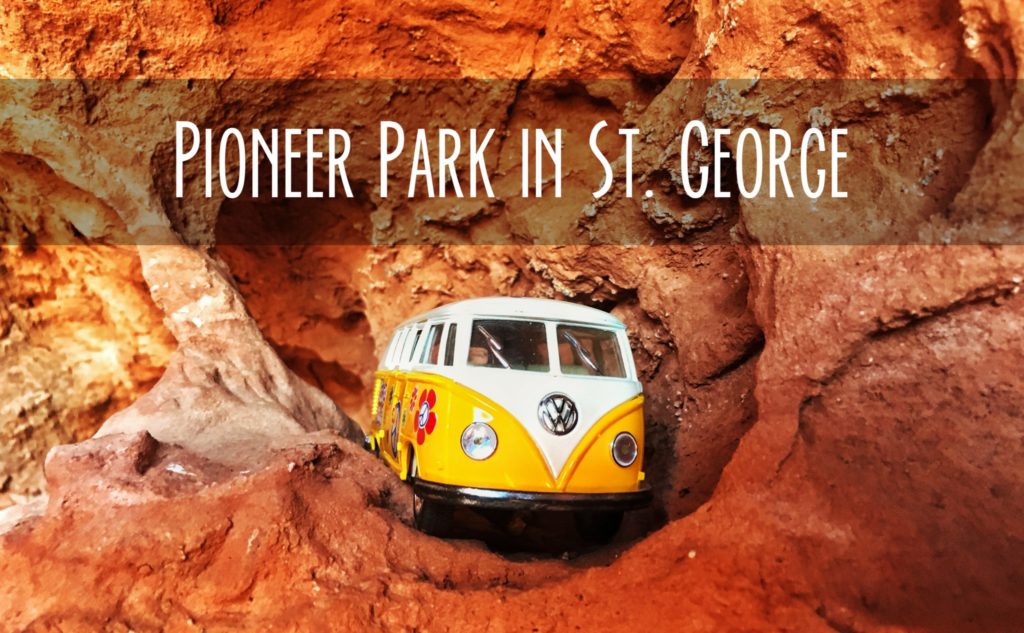 How to Get to Pioneer Park
Pioneer Park in St. George looks down over the city. It's easy to spot, you just have to look up for the big red rock with DIXIE written on it. That is where Pioneer Park is. Getting there isn't hard you just have to drive on Red Hills Parkway.
If you take I-15 and get off on the St. George Boulevard exit and head west on St. George Boulevard you'll take right onto 100 E which will take you to the Red Hills Parkway. Take a left on to the parkway and follow it until you start seeing parking lots on you left. The first parking lot you see will be for the Red Hills Garden.
I'm not sure if the garden is technically part of Pioneer Park, but they are essentially the same area. If you park at the garden you will have a little farther to walk to get to the boulders, and vice versa if you park by the red rocks you will have a little further to walk to reach the gardens.
You might be tempted to think you can just drive over to the garden when you are done on the rocks, but this might not be the case. Pioneer Park in St. George is an extremely popular family recreation site and the parking lots can get very full, especially on weekends.
There is a series of small lots between the gardens lot and a larger lot closer to the rocks and by a large pavilion. There is also an unconnected lot around the bend of Red Rocks Parkway that goes around the DIXIE rock. If you have arrived early you should have plenty of parking spots to choose from, if you have arrived late you will have to take whatever is available.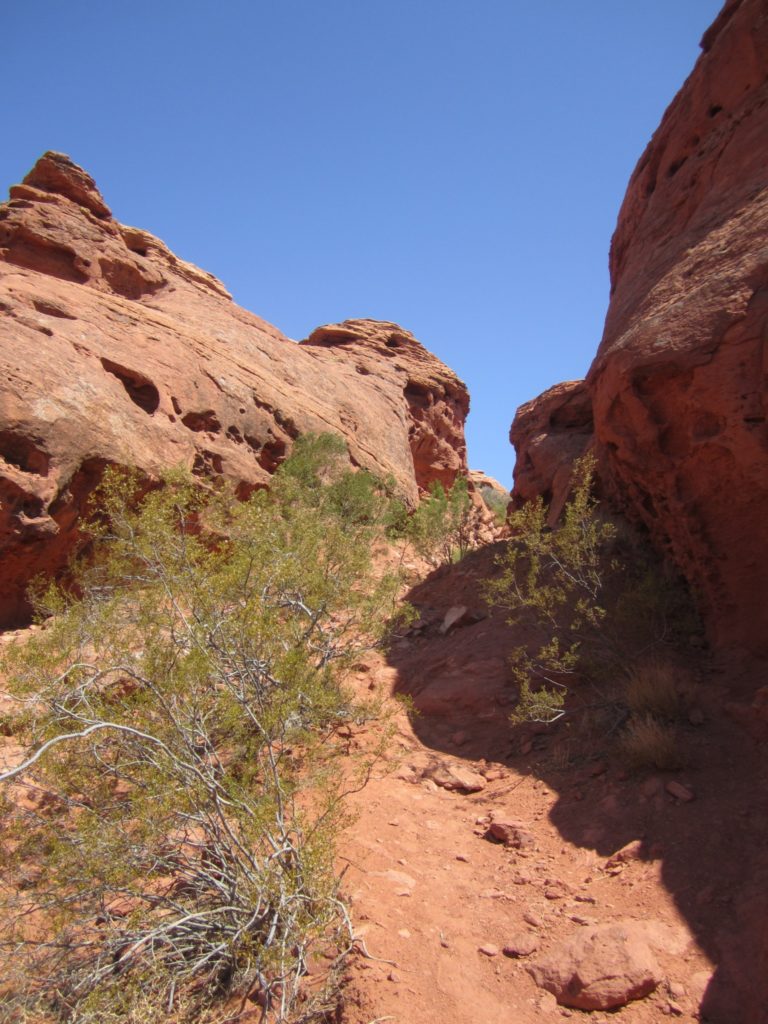 Pioneer Park is a completely free public park so you don't need to pay any fees when you arrive. You can just get out of your car and start hiking.
What You Will See at Pioneer Park
Lots and lots of red rock. It is everywhere up here and extremely beautiful. The park is very large and has tons and you can essentially hike or climb anywhere. You can boulder up the rocks if you desire, but nearly every rock feature can be accessed by hiking from some angle with a minimal amount of rock scrambling.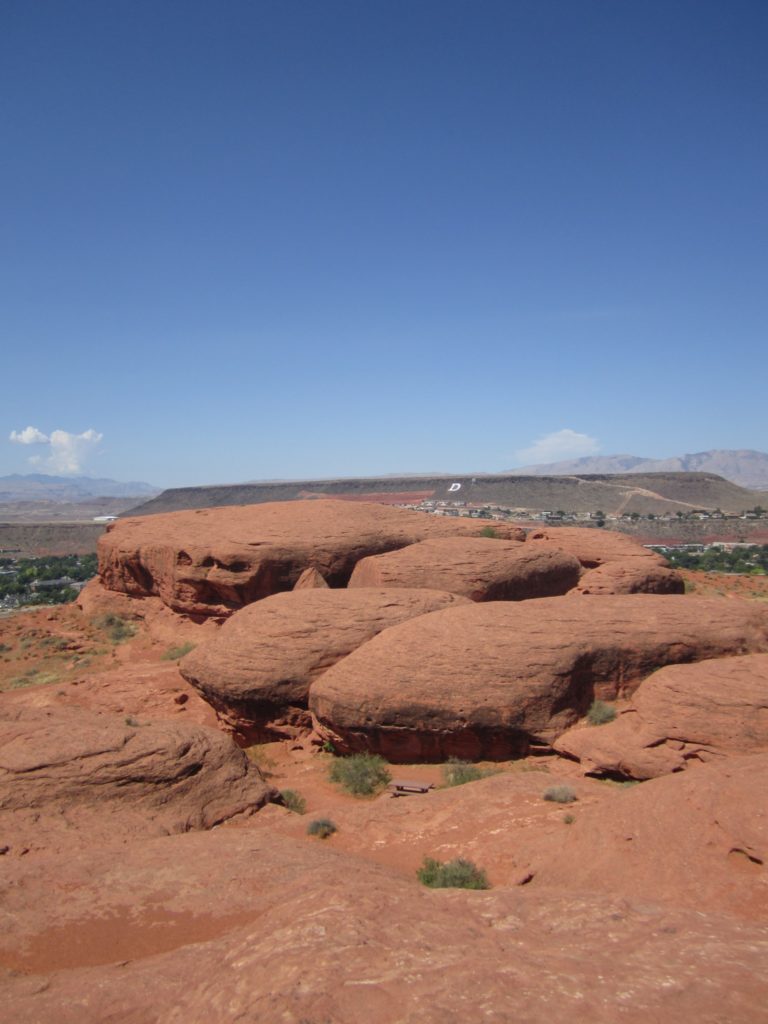 I went all over the place with my three year old nephew, so it really is not difficult in most places. Kids absolutely love this park and have tons of fun hiking and scrambling. Just be aware that there are cliffs so watch out for those. Also be careful of scorpions, prickly bushes, and cacti. Its not a dangerous area but it is always good to be safe.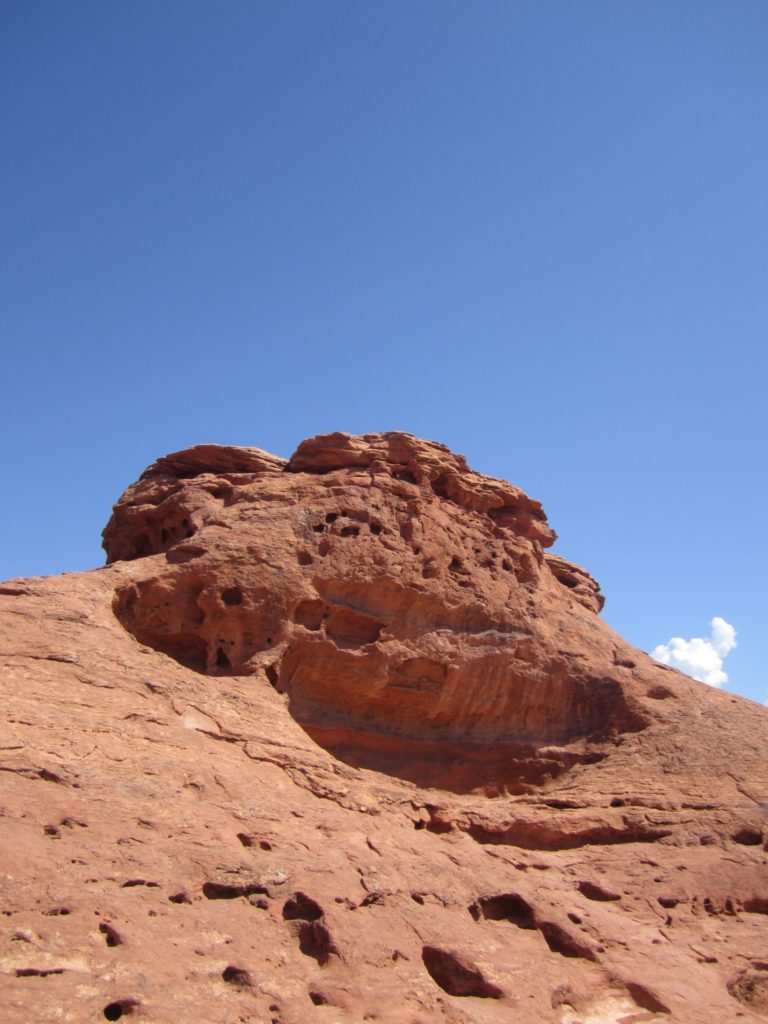 If you like bouldering, Pioneer Park is a great place for you. You can climb pretty much anywhere. The lower sides of many of the boulders are pocked with excellent handholds, but the upper parts tend to have little purchase. Make sure you have a crash pad and a spotter if you are going to climb. Also be aware that you are climbing on sandstone, so breaking holds is a real possibility.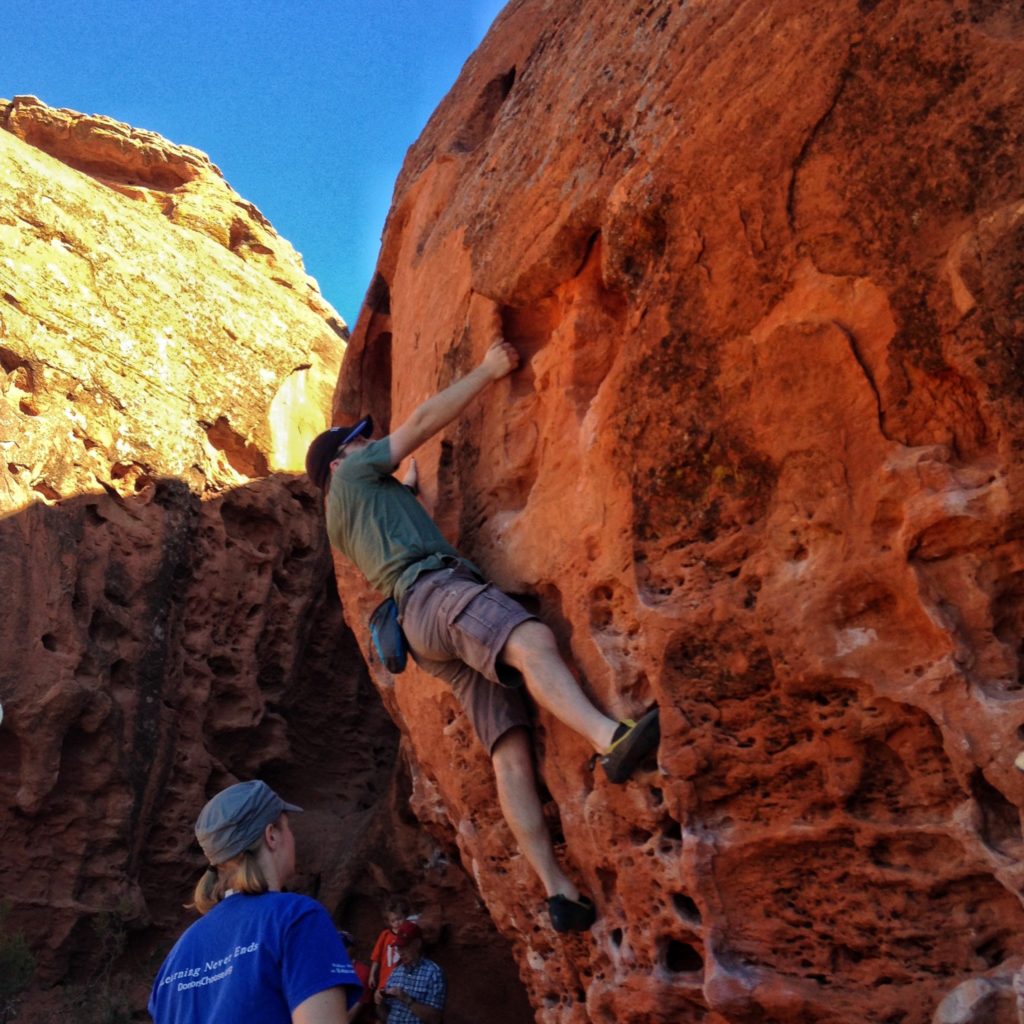 From what I have heard there are also several places in the park set up for top roping and repelling. So if that is your jam don't forget to bring your gear.
What You Will See at the Red Hills Desert Garden
This was a new discovery for us on our most recent trip to St. George. I don't know how long it has been there but we had never noticed it before, or at least realized that it was a garden open to the public.
The Red Hills Desert Garden is a native plant garden. It displays lots of the plants that grow naturally in the southern Utah desert. It is really nice inside with paths that wind through a man made slot canyon and around water features. It was almost time for it to close when we got there this time, so we didn't get to look around a lot. What we saw was really nice though. There are even some fish in the water tanks in the slot canyon.
Sum Up
If you go to St. George, especially if you go with kids, you really ought to visit Pioneer Park and the desert garden. It is free, easy to get to, and provides hours of outdoor fun. There are picnic tables and bathrooms at a couple of the parking lots.