Do you have an avid (or maybe not so avid) traveler in your life? Are you wondering what to get them for the next gift giving occasion? Well look no further. We have compiled our favorite travel items into one list. Hopefully You can find something that the traveler in your life will love!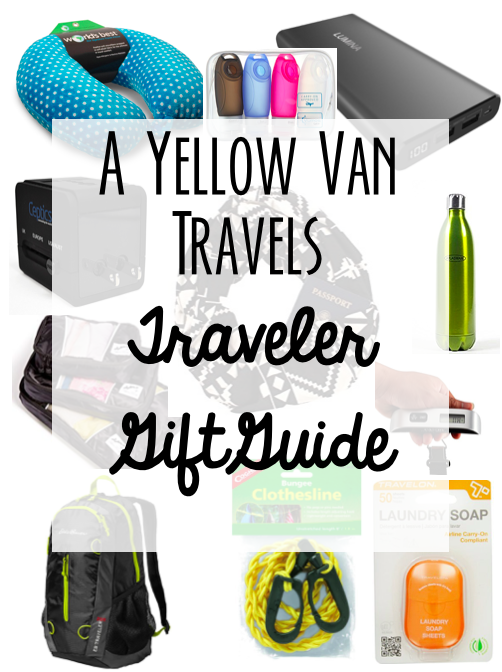 Just so you know, the links below are affiliate links. This means that if you buy something using these links we get a small commission from what you buy. 

Packing cubes should be at the top of your gift giving list. Even if someone isn't a huge traveler, packing cubes will make their life so much easier! Our favorites are from Fishers Finery. We have found that they are the best value. See our full review about them here.
 
Power banks make great stocking stuffers! We have used ours so many times; they are a definite must have travel item. Whether you're camping, stuck in an airport without outlets or just out adventuring, it is so convenient and easy to charge your device.

We love the quality of Eddie Bauer and the fact that if you ever have a problem with a product of theirs, you can return it for a refund even if you don't have a receipt! We have absolutely loved their Stowaway Bags. Ben has the smaller sling style that is great for holding our DSLR camera, the yellow van as well as a water bottle, snacks and our power bank. I have the larger backpack and it is the perfect size for carrying extra water, food, first aid kit, etc when we are hiking and it is the perfect personal item while flying. See our full review here.

While this might not be the most exciting gift, a laundry kit is another great stocking stuffer. When we were on our cruise, we wouldn't pay the exorbitant laundry fees so we just hand washed our clothes while we were on our trip. And this clothesline and this laundry soap were perfect! We wished we would have had a sink stopper, but it wasn't completely necessary.

Another stocking stuffer! If you have an international traveler in your life, this is a must! There is nothing worse than getting to a new country and not having the right power adaptor. This universal travel adapter kit is a great idea.
 
Does your traveler often fly? If so, they need a neck pillow. They totally saved our heads and necks when we were on our trans-Atlantic flights (and when we fly for more than 3 hours 🙂

I have raved about my travel scarf on the blog and on Instagram and I tell people about it ALL. THE. TIME. It is seriously such a great traveling accessory. My scarf came from Pierron Designs. They have a site on Amazon Handmade (here) as well as an Etsy site (here).

We bought one before our trip to Europe and it was such a life saver. It was so nice to weigh our bags before we went on each flight, especially since each airline had different weight requirements and they were sometimes in pounds and sometimes in kilograms. We have a luggage scale that is similar to this one here.

If your traveler flies often, they know about the 3-1-1 rule from TSA. Purchasing TSA compliant bottles in the 3 oz size can save your traveler so much money! By simply refilling these bottles with the bigger versions you have at home, you can have all of your normal beauty items while you travel. These ones are super cool!

I'm a water bottle snob. (See more about that here.) And the Atlasware Water Bottle fits my needs. It is insulated so it keep my water super cold for a long time. It has a small mouth piece so  I don't spill my water all over myself like a toddler. It doesn't make my water taste weird. And it comes in lots of cute colors 🙂