Fall is a favorite time of year for us because it is so beautiful and there are so many fun activities to do. One of our favorite places to go in the fall is Jaker's Jack-O-Lanterns in Springville, UT. It is a great little pumpkin patch that isn't as crazy or crowded as some others. It is very family friendly and there is plenty for children of all ages to do.

How to Get There
If you are coming from Provo just head south on I-15 and then take exit 260 into Springville, heading left on 400 South. Jaker's will be on your left but you will have to go down to the next light to make a U-turn and come back the other way to turn in. Depending on the day the field they use for parking can get quite full so you might have to drive around for a little bit to find a spot, this is especially true on weekends.
Jaker's will open on October 1st this year (2016) and will be open through Halloween.

What You Will See and Do
Jaker's changes a little bit every year, but many of the activities remain the same. This year (2016) they are charging a single admission price and then you can do any/all of the activities. The only other cost you will have will be pumpkins you want to buy.
There are a lot of different activities, here is a list from their website:
Ave's Amazing Hay rides
Corn pile
Slides
Zaner's Boo Zoo
Haunted Cave
Straw pyramid
Straw mazes
Pumpkins
Maicee's Maize of Madness
Most of these don't take to much time to do, but they are all fun. The longest activities are the hay ride, looking for pumpkins, and the corn maze.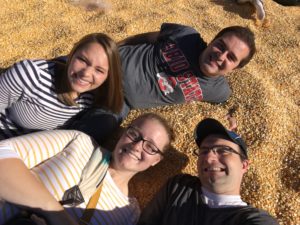 Meagan's favorite activity is the corn pile, which is like a giant sandbox full of corn. It is a lot of fun to play in the corn.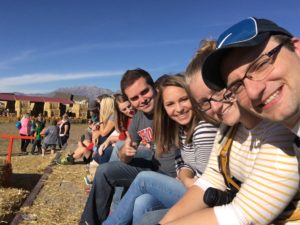 The straw mazes are a lot of fun too, especially the big one because once you are inside it so quiet even though right outside it there might be a ton of people.
Sum Up
If you are in Utah Valley during the fall we highly suggest you visit Jaker's for a fun day. It is a very cheap way to take your family out for a fall activity and if you want to get some pumpkins anyway it is fun to pick them from the patch.